Google Maps Revives Pegman, Rolls Out New Features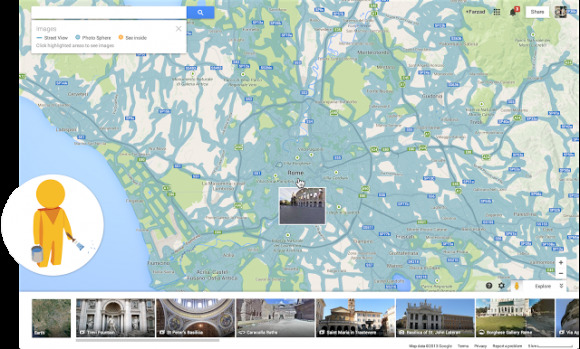 Those of you who have found the new Google Maps lacking may have reason to give it another chance. Starting today, Google will be rolling out a variety of new (and new-old) features designed to increase functionality within the desktop version of the searchable map service. For starters, Pegman for street view is back.
You remember Pegman. Maybe you even still know him from the old Google Maps you keep switching back to every time the service asks you if you'd like to change to the new version. He's the little yellow fellow you can drag in old Google Maps to any location on a map for an instant street view. He was nowhere to be found in the new version, but he's there now, sitting in the lower right corner of the screen. Click him to highlight all street-viewable streets in the current map view, then click any highlighted area to view that location up-close and personal. (The service is even celebrating the triumphant return of Pegman on its Google+ page by dressing him up as Indiana Jones, Waldo, Gandalf, and other costumes.)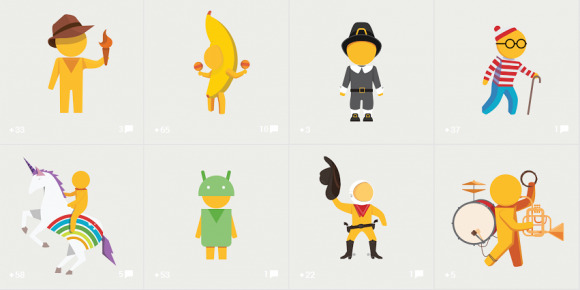 But that's just the beginning of all the fun and functionality in the new update to new Google Maps, if today's Google Maps Blog post is to be believed. Zooming in on a location in street view in well-photographed locations yield "Photo Spheres – immersive, 360º panoramas taken from land, air, and sea," the post said. This feature may not be useful to those who use Google Maps as strictly a navigation tool, but for those who want to explore the world from the comfort of their own beanbag chair or preview a vacation destination, Photo Spheres could prove to be a good way to kill some time and learn a few things.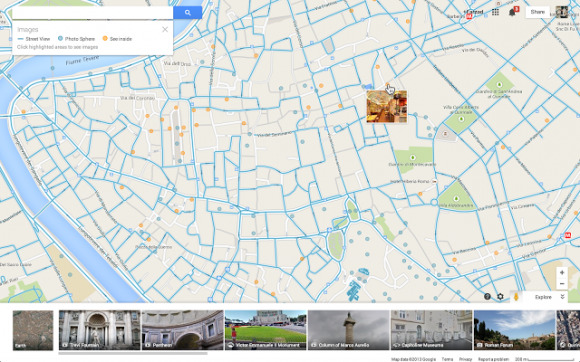 Earth Tours were also added to today's initial rollout, which will not be available to all users right away (check back tomorrow.) Earth Tour icons appear throughout the updated new Google Maps, which you can click to get aerial views of the area. Again, this feature is more geared towards maps-as-edutainment.
In the more functional realm of just getting around in as efficient a manner as possible, there's street-level snapshots in step-by-step navigation directions, to help you visually know when you need to turn or make a transit transfer. Click "Preview Directions" in the directions card to access this feature. And driving directions now integrate real-time traffic and congestion information by Waze. That alone should help the new Google Maps to be a little more useful.
The new updates to the new Google Maps for desktop only work in Firefox and Chrome.
What do you think? Have you received the rollout yet? Still sticking with old Google Maps? Or are you willing to look into your heart, forgive Google Maps its trespasses, and give the new-new version a test drive?
SOURCE: Google Maps Blog