Google Maps gains WiFi only mode and delay notifications for busses and trains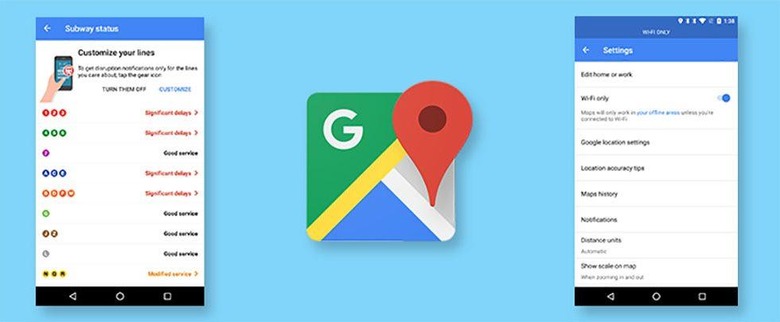 Google is currently rolling out some new features for Google Maps users and so far, only a handful have the new features. The new features bring Wi-Fi only mode and the ability to get notifications when mass transit will be delayed. That means if your bus or train is late, Google maps will let you know. The roll out is a staged one and there is no indication of when the features might be available for everyone.
To determine if you have Wi-Fi Only mode as part of your Google maps app, you need to open the settings screen and look for a toggle on the second line that says "Wi-Fi Only." If you have this mode, it makes Maps only download map data when you are on WiFi. The slider where Wi-Fi Only now resides was previously offline areas. If you click on the link, it goes to the same description page.
When you enable Wi-Fi Only mode, you do get a warning that tells you Maps may still use a small amount of data. So you can remember that maps is being denied access to your data, Wi-Fi only does appear at the top of the screen when the mode is enabled. Maps users who live in areas where taking busses, trains, and subways is common the new mass transit delays is a big deal.
The mass transit notifications are customizable. It appears that the feature has a screen that lists lines by color and name with notices if there are significant delays, good service, or modified service for those lines. Word is that for at least one user, the notifications screen disappeared after Maps was closed and relaunched. Wi-Fi Only mode is rolling out based on accounts meaning folks that see the feature on one of their devices will have it on all devices using the same account.
SOURCE: Android Police