Google launches updated search page layout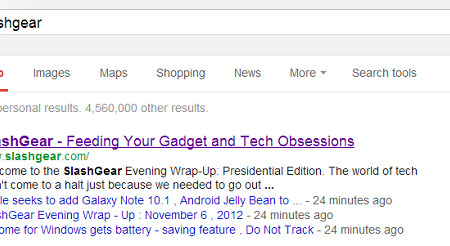 Google has launched its new search page layout, which features the various navigational tools spread out horizontally beneath the search field. Previously, these tools were located on the left-side of the screen. This was a move on Google's part to make search more consistent across the smorgasbord of gadgets and displays available.
According to the announcement, this change started last year with tablets, and was rolled out to smartphones a few weeks back. Now its being applied to the desktop search, providing "more breathing room, and more focus on the answers you're looking for, whether from web results or from a feature like the Knowledge Graph."
The navigational tools work the same way they did before, only arguably in an easier-to-utilize fashion. Clicking the "More" listing pulls down the drop-down menu with other Google offerings, such as Recipes, Books, and Places. You can also pull up search refining tools by clicking "Search tools," allowing you to sift through searches by reading level, to see personal items related to the search term, such as Gmail messages, as well as related searches and other options.
The new layout is currently only available for users in the United States. According to the announcement over on Google's Inside Search blog, the company plans to bring it to users in other languages and regions "as soon as we can." Google is encouraging user opinions and feedback on the change over at it's Google+ page.
[via Google]