Google+ is still alive, even gets new Topics feature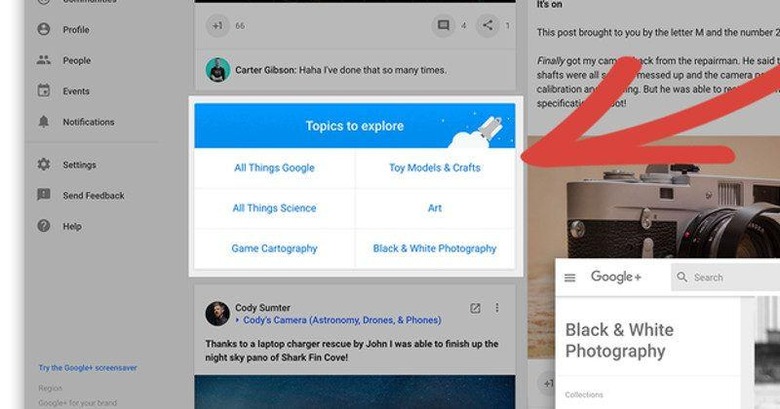 Google is known, nay, notorious, for starting dozens of projects and then killing them off when they no longer become feasible or practical business-wise. That has happened to both small and big projects alike, even revolutionary ones like Google Glass, Project Ara, and more. And yet there is one product that, despite being a ghost town and shadow of its former self, remains alive and has even gotten a new feature. Yes, that is Google+, which, starting today, will start surfacing interesting Topics to try and get you hooked on the social network.
Yes, Google+ is a social network, one that was initially envisioned to rival Facebook and Twitter. With Google's ownership of products like YouTube, Picasa Web Albums, and the like, it was almost in the bag. That, however, never happened and although it's still in use today, it has transformed a personal social media hub to one that revolves around communities.
While Google has slowly but surely been separating Google+ from its other services, it has been adding features to enhance its strong points, few as they may be. It first started with Communities and then moved on to introduce Collections, which is basically something like Pinterest. Promising that there is more content to be discovered within its walled garden, Google+ now has Topics for you to explore.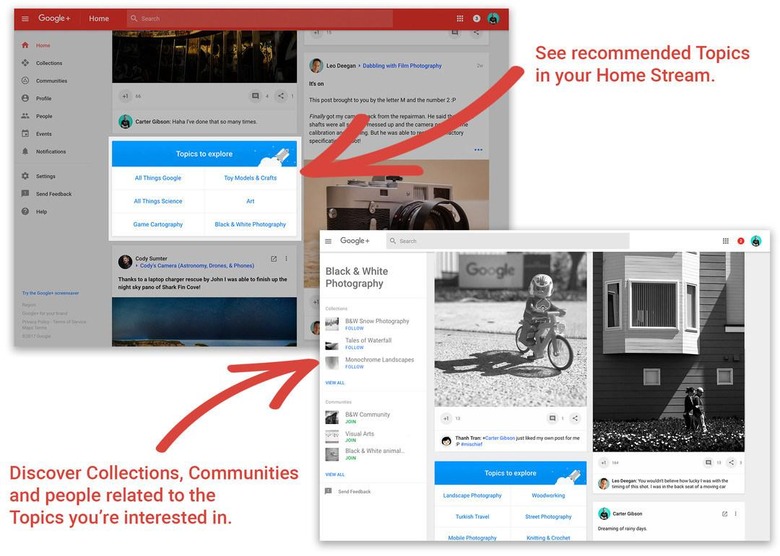 In essence, Topics collates Communities and Collections under a single, well, topic. Those can range from Toys to Art to more specific areas of interest like Black & White Photography and Game Cartography. Communities and users need not do anything special to be included under those topics. Or at least Google doesn't say so. Everything happens almost magically, most likely using Google's world-renowned data crawling skills.
Google+ Topics promises to make it easier to discover content, but that does presume that the content exists in the first place. In recent times, Google+ has become more of a hub for communities revolving around Android apps and development, which means the content might be skewed towards one kind of content than others.
SOURCE: Google