Google Hangouts On Air Update Adds Live Question And Answer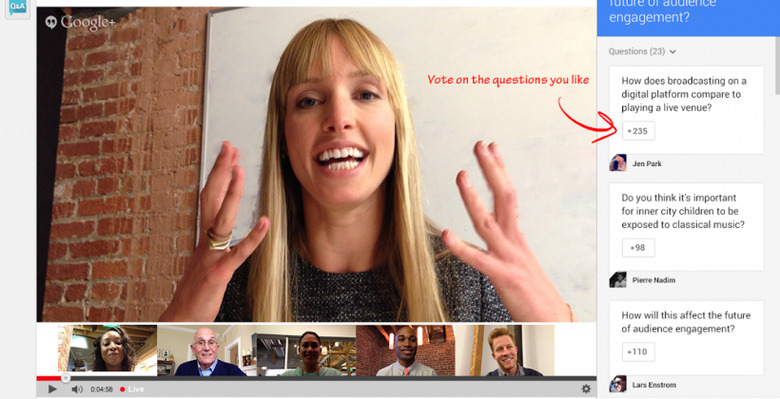 Google introduced Hangouts On Air quite some time back. In fact, this setup was released for all Google+ users back in May of 2012. And while this was a good way for users to go "On Air" there were some features that were missing, specifically in terms of audience interaction. That said, a new Hangouts On Air update has added just that, a feature called Live Q&A.
This means you will now be able to directly interact with those viewing your hangout. Google has said this Live Q&A setup will bring the ability to solicit questions from the audience as well as choose and answer those questions while the broadcast is still live. In addition, there will also be an option that allows you to timestamp the YouTube recording so you can mark when a specific question was answered during the broadcast.
On the flip side, those viewing a hangout with the Live Q&A feature setup will be able to ask questions as well as vote on questions. This, of course, will be done while the broadcast is still live. Viewers will also be able to replay the Q&A once the broadcast has been wrapped up, which is where those previously mentioned timestamps will come into play.
In typical Google fashion, this update will not be immediately available for all users. According to details coming from the announcement, Google plans to have this available for all users over the next few days. Those using the Live Q&A feature on the desktop will have full support. Those checking this out on Android will be a bit limited for now. There wasn't any mention as to when this will be fully supported on Android (or iOS) however for now it will be view-only.
SOURCE: Google+