Google Glass eBay listing reaches almost $16k before being pulled

Google Glasses are a hot commodity, and there's no doubt as to why. The $1,500 pair of glasses that will be shipping out to developers soon is one of Google's greatest undertakings, and users want in on the fun. So much, in fact, that people are willing to spend almost $16,000 to own a pair of Google Glasses before the general public gets them.
An eBay listing for a pair of Google Glasses was pulled earlier today after eBay noticed that the auction was pretty much fake since the seller didn't even have the glasses in hand. The seller claimed that we would be picking up his pair of Google Glasses during "Google's Project Glass launch event, which will take place some time after Feburary 27th."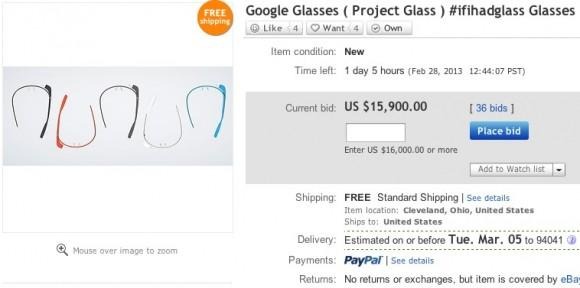 However, Google hasn't yet begun selecting those who would receive Google Glasses, so while the seller may have submitted an application to be an early tester, there's no guarantee that he'll receive a pair anyway. Then again, once the glasses actually do start rolling out to developers, it's possible we may see legit eBay auctions go up soon.
Those who end up being selected by Google to get a pair of Google Glasses will be notified sometime mid-March, where at that point, we could definitely see some eBay auctions. Plus, Google's terms don't necessarily that you can't resell the pair of glasses, so be prepared to save up some cash if you're interested in a pair.
[via The Atlantic Wire]