Google figured out the most misspelled word in every US state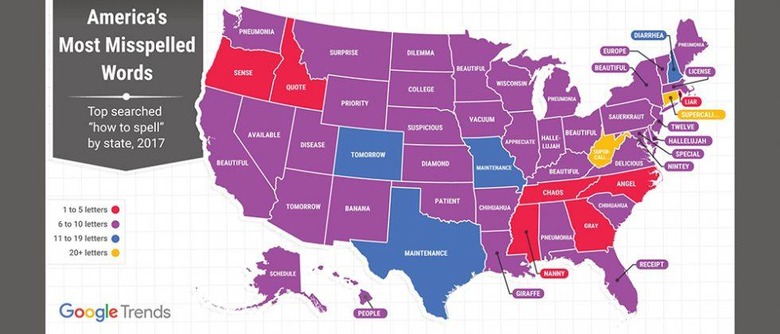 Everybody has a word or two they can't seem to spell correctly, and the go-to solution to get the correct spelling is usually Google. Open a web browser, navigate to Google, type in the word, and then get the correct spelling in the search results. That's convenient for users, and it also provides Google with a bunch of data on how well the people in each state spell. Based on its data, Google Trends has just released a map showing the most misspelled word in every US state.
The majority of most-misspelled words fall in the 6 to 10 characters range, though there are a few words with five or less characters, and only a couple with more than 20 characters...and both of those are 'supercalifragilisticexpialidocious.' Perhaps the most shameful among the words are simple things like 'gray' and 'chaos.'
America's most misspelled words – it's #spellingbee week and we mapped top "how to spell" searches by state#dataviz pic.twitter.com/oHkRHj8Eku

— GoogleTrends (@GoogleTrends) May 30, 2017
We see some repeated words on the list, with both pneumonia (Washington, Maine, Michigan) and beautiful (California, Ohio, Minnesota) being repeat offenders. There are even a couple points of humor, such as Wisconsin's most misspelled word being 'Wisconsin.' Other misspelled words include 'surprise,' 'dilemma,' 'vacuum,' 'sauerkraut,' 'delicious,' 'receipt,' 'suspicious,' and 'hallelujah.'
This isn't the first time Google has published a list of the nation's most misspelled words. The company did the same thing last year, and while some of the words remain the same — such as 'pneumonia' for Washington — most others have changed. In that case, as in this latest one, Google based its data off each state's 'how to spell' queries.