Google Field Trip app acts as a virtual tour guide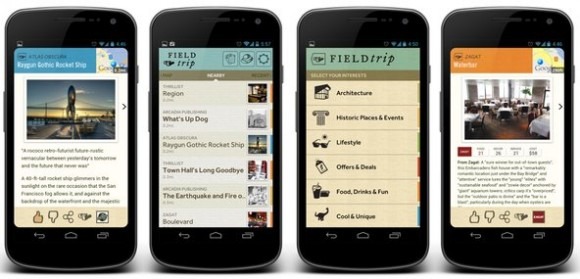 Google launched a new app today called Field Trip. The company says that it's essentially "your guide to the cool, hidden, and unique things in the world around you." It works as a virtual tour guide of sorts, automatically providing you with information of a particular point of interest that you come across.
The information the app provides can range from historical facts about a location to reviews of a nearby restaurant. And like Google Now, it relies on your location to give you the most relevant and useful information. You could think of Field Trip as a sort of extension of Google Now, only it feeds you information automatically instead of having to ask for it first.
John Hanke, a vice president of product at Google, says "the idea behind the app was to build something that would help people connect with the real, physical world around them...It's always running in the background, so it knows where you are and is always looking to see if something interesting is in your immediate physical environment." He also mentioned that one thing Google wanted to focus on was moving the device out of the way and giving you the information as soon as possible without any annoying barriers.
Obviously, the app probably won't be much help if you use it locally, but if you're traveling to a different city (especially a big one) that you're not too familiar with, Google's Field Trip aims to help you out. Field Trip is a free download and it's available now in the Google Play store.
[via The New York Times]