Google Fiber Web Plan Revealed For $70/mo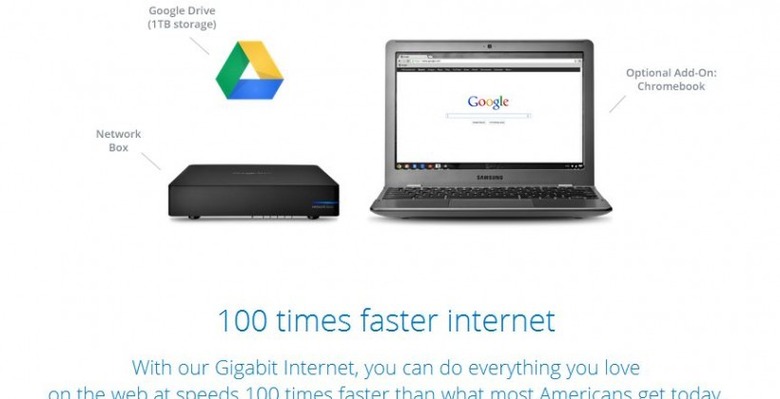 Now that Google's fiber optic service is official, it's time to talk about plans. Google Fiber has three plans for consumers to pick from – one with TV & Gigabit Internet, one with just Gigabit Internet, one with free Internet – and here we're going to be talking about the second one on that list. If you want to take advantage of Google's fiber optic network but don't require a plan that includes TV service, this is the one for you.
Google's Gigabit Internet package costs $70 per month and comes with a one-year contract that you'll need to sign. It boasts download and upload speeds of up to one gigabit (obviously) with no data caps, and also comes with a network box and 1TB of Google Drive storage. Normally, Google would charge a $300 construction fee that covers the cost of stringing fiber optic cables to your house, but with this plan that fee is waived.
Unfortunately, Google Fiber is only available in Kansas City, KS and Kansas City, MO at the moment. In order to get Google Fiber in your neighborhood, you'll have to head over to the Google Fiber website and pre-register for service. Once you've done that, you need to convince your neighbors to pre-register for service too, as Google will only bring its fiber optic service to "fiberhoods" that meet pre-registration requirements. So, rally your neighborhood and show Google that you're all interested, or get left in the dust as Google brings its network to other neighborhoods. This may be one of the only times you'll nag your neighbors about something that's mutually beneficial, so get to it. Stay tuned for more information on Google Fiber!