Google Eyeballs Pay TV Offering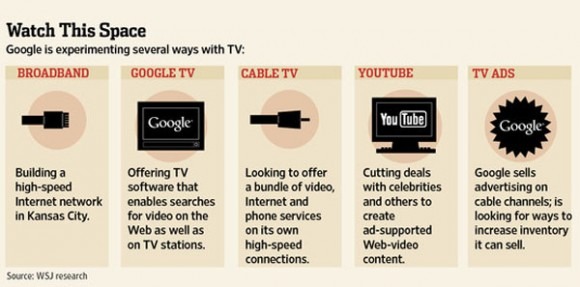 You can bet if there is a place that Google can reap some ad money it wants to be in there. Google already has ads online and in several other places. The biggest ad market that Google isn't into so far is TV ads. The TV industry generates over $150 billion each year according to the WSJ and you can bet Google wants a chunk of that money. To grab its share Google is looking at an interesting play that might be something many people are interested in.
Google is said to be considering a new pay TV project. Google installed the high-speed web network as a project in Kansas City, Mo and in Kansas City, Kansas already. Google is now said to be looking at rolling out a pay TV service out on those two high-speed networks and is said to be in early talks with TV studios. The studios specifically named include Walt Disney Co, Time Warner, and Discovery Communications.
Google is serious enough about the TV ambition to have hired a cable TV exec to handle the talks with the cable networks. The exec is Jeremy Stern. Neither the networks nor Google will comment on the deal right now. A move into paid TV would allow Google to control the ads that run on the network and would certainly make sense for Google.
[via WSJ]