Google expands personalized results in Gmail and Search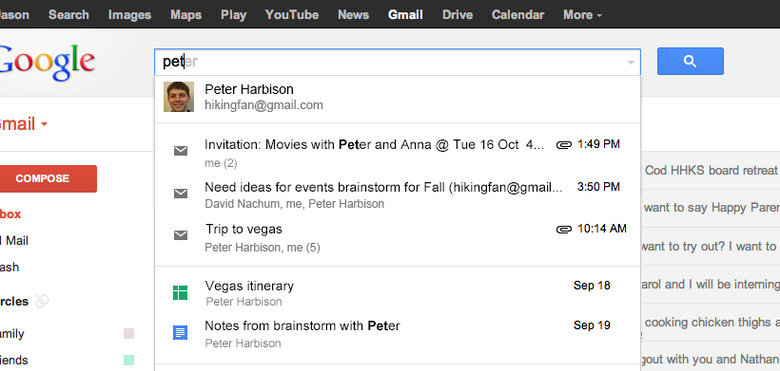 Google tested a limited field run of a new search method that integrates a user's Gmail and Drive with search in Gmail so that files, emails, and documents that are relevant to the search term appear in the search results as you type. Back in August when this started, the feature was a hit, according to Google, prompting the company to expand field run to more users. As of today, anyone can join the field test to get personalized search results.
Most of the personalized information via the test run will be displayed in the auto-complete drop-down results in Gmail as you type, which you can see in the screenshot above. For searches on Google.com, the personalized information will be displayed on the right-side of the screen, keeping your search results clean and easy to scan through. The personalized Google.com search results will still include Gmail, as it did in the initial field run, as well as other data from Google services, including Drive and Calendar.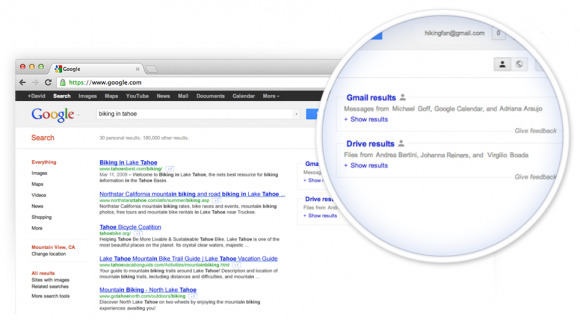 If you're keen on getting personalized Google results in your normal searches, as well as the expand Gmail search feature, you can sign up for the field run here. The field trial is currently only available for users with an @gmail.com email address, and is only available in English. When you click the Join button, assuming you're already logged into your Gmail account, you'll see "Thanks for joining! You will get an email confirmation when your account is ready. You can return to this page to leave the field trial."
Other features with the Gmail and Search field trial includes an enhanced flight tracking feature, which pulls flight information from your Gmail when you search and displays it in the auto-complete results, with a link you can click to view the confirmation message that is nestled in your inbox somewhere. New Gmail search under the field run also includes a consolidation of links that have been shared in Gmail that are relevant to your search term. If you decide the new search results aren't quite your thing, you can leave the field run any time by returning to the field run page and unsubscribing from it.
[via Official Gmail Blog]