Google Earth 7 gets tour guide and 3D imagery features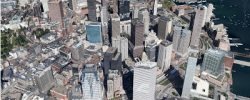 Earlier this year, Google released tour guide and 3D imagery for Google Earth mobile. The features allow users to view cities in 3D, and to go on guided tours of over 11,000 faraway places from the comfort of their handheld. As of today, those features are now available on the Google Earth 7 desktop application.
The tour guide feature works as, well, a tour guide. You can go on a virtual tour through various locations, getting suggestions for local places that you might be interested in. A flyover will take you over historical landmarks, famous places, and other points of interest. Tidbits of information about items and locations are provided via Wikipedia.
The second feature, 3D imagery, has been enjoyed by Android and iOS users for a while now. With this feature, desktop users can now see detailed three-dimensional flyovers of many of the world's biggest cities, including Rome, Munich, Mannheim, Portland, Seattle, Austin, Long Beach, Denver, and more. Says the announcement, "The experience of flying through these areas and seeing the buildings, terrain and even the trees rendered in 3D is now consistent across both mobile and desktop devices – making all of your virtual travels more realistic than ever."
Using these features on your laptop or desktop is much nicer than using a mobile. In particular, the 3D city imagery, when viewed on a large monitor or HDTV, are pretty phenomenal, with crisp details and definition. You can get the new features by updating your current installation, or by downloading Google Earth 7 from the Google Earth website.
[via Google]