Google Duo low light mode will brighten the darkest night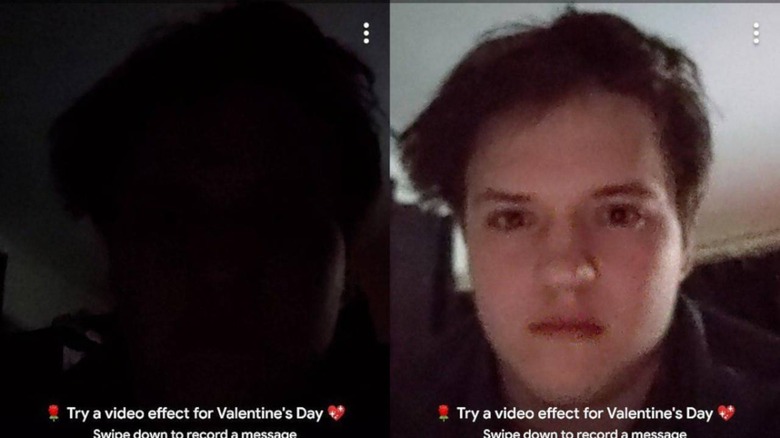 Although Google has never really been known for its expertise in photography, it is starting to make a name for itself in that area, particularly on mobile. Its work on software-based photography with the Pixel phones' lone camera has been impressive and its recent Night Sight turns night into day. Not everyone has a Pixel phone though so it's mildly reassuring to find out that Google might be working on something similar for its Google Duo video chat app. Plus, it's also working on something for lovers this month.XDA's Max Weinbach enabled two upcoming features in the Google Duo app that isn't yet available for anyone else. One of them is a low light mode that does exactly what it says. Although there's no hint that it operates similar to the Google Camera app's Night Sight, the results, even if a bit grainy with a slower frame rate, are remarkable.
Another feature, which may only be seasonal, is the Valentine's Day effects. It causes AR heart bubbles to rise in front and behind the user's head. What sets it apart from AR stickers of the sort is how it is able to take into account the shape of the user's head to make it seem like bubbles are coming from behind.
It's easy to take these features for granted but the technology behind them is no simple matter. Brightening dark live video, for example, takes quite some computational work, which is why there is a bit of graininess and slowdown due to the app trying to compose multiple exposures into a single video feed. The hear bubbles might also seem trivial but the fact that the Duo app is able to do depth perception at all is already remarkable.
There is no word yet on when these features will officially hit Google Duo, though we can imagine the Valentines effect will land, within the next few days. More than just the single effect, though, these features could be the opening salvo for even more future treats, like bokeh, AR videos, and more.