Google Drive is making it easy to ditch iPhones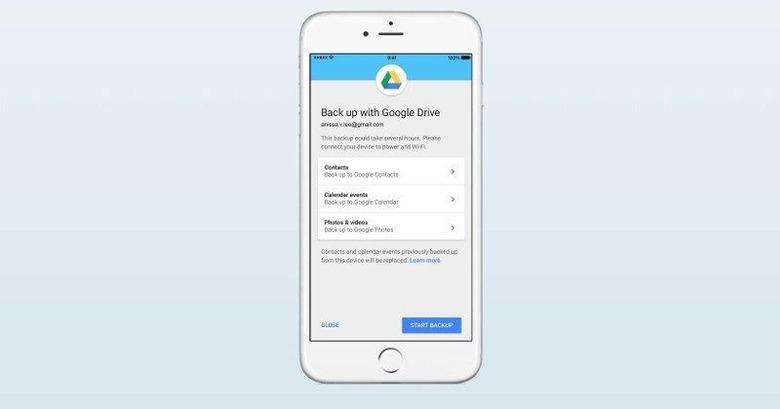 The smartphone divide between the Apple iPhone and Google Android is one of the fiercest and most vicious in the tech industry. Lately, however, we've been seeing some exodus from either camp, dissatisfied with developments (or lack thereof) on either side. One thing that keeps people from completely jumping ship is the anxiety about their data, particularly contacts, appointments, and, more importantly, photos. Just as when it unveiled the Pixel phone, Google is making it even easier to jump from an iPhone to an Android. And all you need is a Google Drive account.
"Transfer your stuff from iOS in 3 easy steps." That's how Google's spiel goes. Those steps begin with downloading the latest version of Google Drive for iOS. The updated version now comes with a Backup option in the Settings menu that will allow users to backup their contacts, calendar entries, and photos to Google's equivalent services. Once that's done, when you log into your new Android phone with your Google account, you'll be able to retrieve those same pieces of data easily.
Of course, there are some caveats to this process. You'll have to make sure you have enough space on Google Drive to accommodate all those. Photos might be a particularly tricky subject matter. And you'll definitely need a good Wi-Fi connection when performing the backup. Google warns that this method will overwrite any contacts and calendar events previously backed up to Google's cloud.
Of course, that process only really transfers those three pieces of data. They might be critical, but they're not all that's stored inside users' phones these days. Messages and music won't be making the journey. And you won't be presented with a list of equivalent apps to replace your favorite iOS ones. Moving away from iMessage might be particularly painful, so best use this guide should the situation call for it.
If you really want to switch from an iPhone to an Android with as little effort as possible, you could opt to trust in Google's Switch method, available only on the shiny new Pixel. That one covers contacts, calendar events, photos, videos, music, SMS messages, and even iMessages. And it uses a wired connection to boot.
SOURCE: Google