Google Drive adds right-click sharing from desktop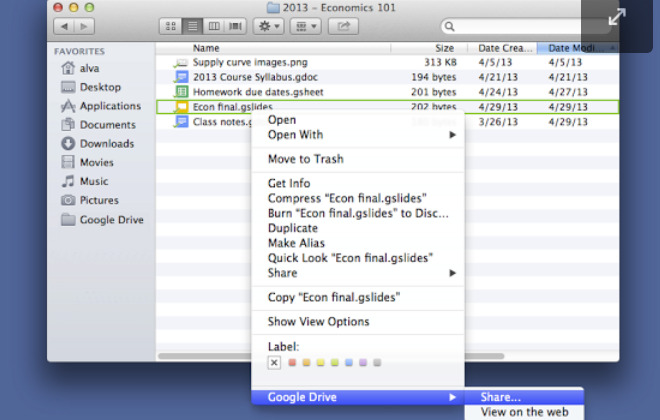 Google has been rolling out updates to Drive at a moderate pace, having added improvements for iPhone back on April 8, for example. And while all the updates bring welcomed features, this latest one more or less trumps all the recent ones, adding a functionality found in many competitors' services and one sorely needed for power-users. Starting today, users can share content from within Google Drive on desktop with a simple click.
Starting today, Google Drive users utilizing the service on their PC or Mac can share directly from within the folder using a couple of simple mouse clicks, both rapidly speeding up the rate at which one can share content and also bringing the service in line with some other services that have offered this feature – or one remarkably similar – for quite awhile now.
You can see the feature in action in the screenshot above. Right-clicking on the file you want to share, such as a text document, picture, or something else entirely, pulls up a menu with various options, which hasn't changed and will look familiar to those who already use the service. This is with the exception of the last entry in the list, under Google Drive -> Share...
If you're not seeing the new feature yet, be patient – Google says in its announcement on Google+ that the feature is being rolled out over the course of this week, so you might not be seeing it yet, and may not see it until Thursday or Friday. While you're waiting, you can check out some other recent Google Drive news from us by hitting up this link here.
[via Google+]