Google Doodle honors Moog with playable synthesizer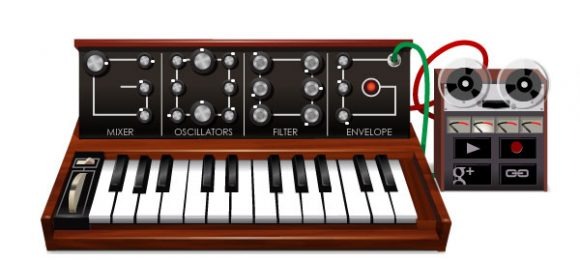 Robert Moog, the inventor of the Moog synthesizer, will be honored by Google tomorrow on his 78th birthday with a special Google Doodle. The doodle is a recordable and playable Moog synthesizer. It's one of the more elaborate doodles we've seen from Google, with a whole bunch of little knobs and switches to play around with.
The doodle features a keyboard, mixer, oscillators, filters, and envelope adjustment options. Once you've tweaked out your own funky tune, you can record it for sharing on Google+ or sending a link to it to your friends. If you're curious to give it a try early, you can check out Google's homepage for Australia, where the doodle is already up.
As for Moog, he was born on May 23, 1934 and created the synthesizer in 1964. His synthesizer was developed using transistors, something still quite new during that era. It has since had a tremendous impact on modern music and has been used by numerous musicians.