Google Chrome climbs to the top of browser heap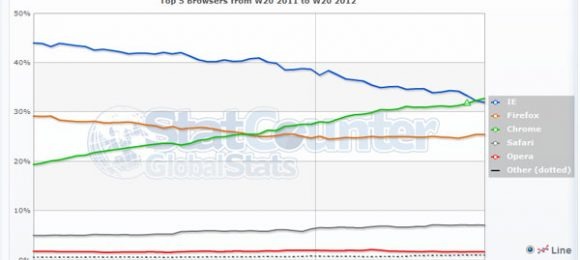 The browser world is similar to other segments of the technology market where the lead often gets traded among different brands. The latest numbers tracking the global browser market are in from Statcounter and changes occurred in the market. As you can tell from the crossing of the blue and green lines, Internet Explorer was passed by Chrome for the lead recently.
The top five browsers include Firefox, Safari, Opera, Internet Explorer, and Chrome. The use of Internet Explorer has been on the decline over roughly the last year while the use of Google Chrome has been on the rise. Chrome has also been taking users from Firefox according to Statcounter.
The numbers show for most of the month of May; Chrome and Internet Explorer were virtually tied with Chrome inching ahead last week. If Chrome holds out, this could become the first full month that Chrome has been ahead of IE. Previously, Chrome inched ahead of Internet Explorer for a single day. Right now, IE and Chrome both sit at very near 33% of the browser market each.
[via TheNextWeb]