Google brings TrueView in-stream video ads to mobile devices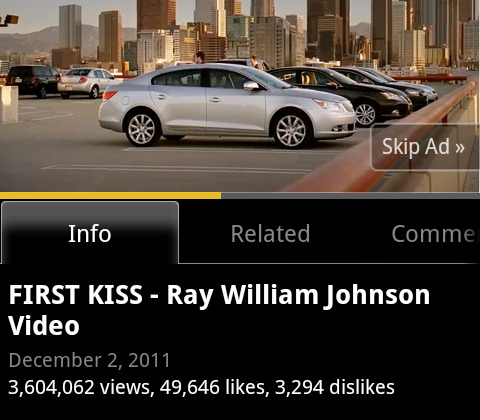 With more and more Internet users streaming video on their smartphones and tablets, Google is constantly looking for ways to monetize all of that. One of the ways the company is doing that is by bringing TrueView in-steam ads to YouTube videos on mobile devices. YouTube product group manager Phil Farhi announced these new mobile ads on the Google Mobile Ads Blog, and told TrueView users what they can expect now that mobile devices have been tossed into the mix.
With TrueView, consumers have the ability to skip ads after five seconds, meaning that if the ad isn't for something they're interested in, then they aren't forced to sit through it. Advertisers only pay for views when consumers opt to watch the ad, so they don't have to worry about being charged for the people who only watch 5 seconds of the ad and then move on. This, of course, is geared toward making advertising more effective and cost-friendly for advertisers, which in turn encourages them to keep advertising with Google and YouTube.
In his post, Farhi states Google has "found that brand recall improves when ads run across TV, PC, phone and tablet," and as such, has made it easier for advertisers to set up multi-screen ads. All TrueView accounts have been given mobile advertising functionality, and Farhi encourages account holders to begin using multi-screen campaigns. This means that advertisers can now focus a campaign across a wide variety of platforms, be it television, mobile devices, or computers, so expect to see these all-encompassing campaigns popping up soon.
This TrueView mobile launch is meant to expand on the YouTube mobile ad roll out that occurred last year. Advertisers who use TrueView now have a lot of additional options at their disposal, and you can bet that more than a few are happy that they can now push their ads to mobile platforms. Getting TrueView on mobile devices sounds like it will to prove to be an excellent move for Google, and the company says that more is on the way. Be sure to take a look at our story timeline below for more posts on Google!