Google brings nutritional information to search results

Health nuts rejoice. Google has added nutritional information to over 1,000 foods to its search results, using Knowledge Graph to display information about a specific food. You can enter in search queries like "how many carbs in an apple," and it will bring up that information, along with a sidebar of other nutritional facts about apples.
The new feature can also tell you other facts about certain foods, including how much protein is in a banana, and of course, how many calories a certain food item has (we're all about counting calories, right?). So far, we're not seeing the additions in our search results just yet, so we're guessing Google is slowly rolling it out.
The new feature will be available on both desktop and mobile search, but it'll only be available to US users for the time being, which means it'll only detect English for now. However, we're guessing that Google will add more countries and languages over time, as well as more food items hopefully (because we really want to know how many calories are in a cronut).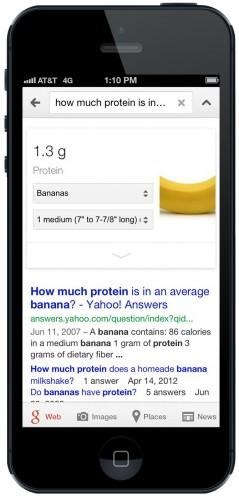 Google will also let you choose the quantity of a food item in order to get more accurate results while churning out your diet. We're guessing that most health-focused people are already using some sort of food-tracking app, but for those just casually wanting to know more about what they eat, Google wants to be the go-to place for that.