Google begins showing indoor Street View images on search result pages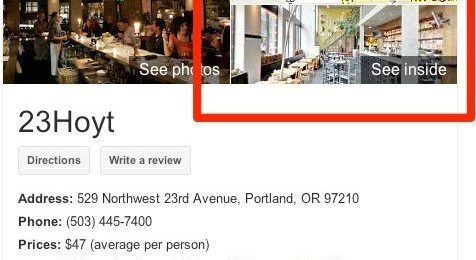 Google has been expanding the reach of its Street View imagery all around the country. In some areas, Google started offering actual indoor images of businesses that go along with its Street View imagery allowing searchers to go from of you of the location of the store restaurant inside the doors to see what the place looks like on the inside. Google is now placing some of the inside images right into its search results pages.
Previously these interior shots of businesses could be challenging to find because they were only available inside Google Maps. This week those images begin to get integrated right into the Google search results pages highlighting them on business listings that are displayed on the right sidebar next to the regular search results. If the users want to see what the restaurant or business looks like on the inside, all they have to do is click on the "See inside" thumbnail.
The only downside to clicking these results for the user is that it takes the user to a new page requiring them to hit the back arrow to get back to the search results. Google is reportedly making this indoor imagery option available to businesses that work with pupils trusted photographers within the United States, Australia, New Zealand, France, Ireland, the Netherlands, Canada, and UK.
Business users who don't work with a Google trusted photographer can upload their own interior shots of the restaurants or businesses. However, there is no way for a business owner to upload the same sort of walk through experience that trusted photographers working with Google can provide. I think this is an interesting move for Google and something that people looking for a new restaurant to enjoy should appreciate.
[via TechCrunch]