Google Announces Q3 2011 Financial Results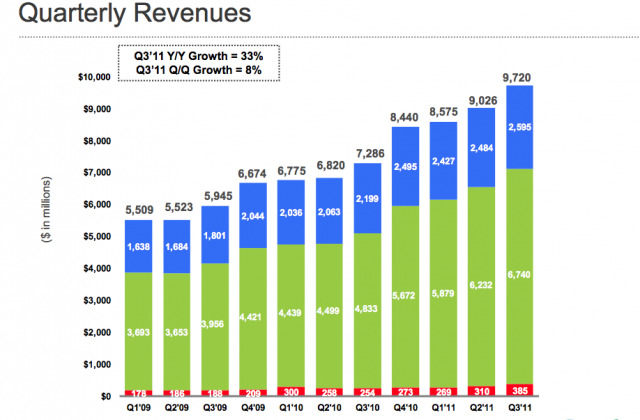 Google's 2011 third quarter earnings results are in and they've surpassed Wall Street expectations.
The company is reporting $9.72 billion in revenue, which is a 33 percent increase from the same quarter last year. GAAP net income came in at $2.73 billion, up from $2.17 billion a year ago.
"We had a great quarter," said Google CEO Larry Page, who has returned to the reigns for the third quarter. During this time, Google has notably announced the acquisition of Motorola Mobility and successfully kicked off its own social network called Google+. Along with the earnings release, Page made it a point to reveal that Google+ now has more than 40 million users. Page also revealed that Android has now reached 190 million activated devices worldwide and that the Chrome web browser now has 200 million users.
As for the financial figures, Google-owned sites continued to generate the largest chunk of revenue with $6.74 billion, followed by Google's partner sites revenues, such as through the AdSense program, of $2.6 billion. Expenses have also increased with revenue costs now reaching 12 percent of revenues and operating expenses now at 34 percent of revenues.
For the full details, you can visit investor.google.com