Google+ amplifies mobile reach: how in-site reccommendations will affect the reader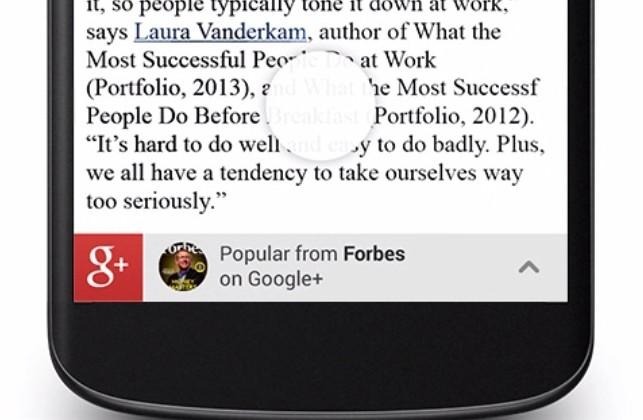 Google is continuing its push for more Google+ features, and today it has announced a new addition for mobile users to take advantage of. Essentially, the new feature suggests other articles to read to mobile users when already reading a specific article. The content that gets recommended is based on relevancy, popularity, the author, and other minor factors.
This new recommendation feature is available for both iOS and Android, but it seems it's only compatible with Forbes for the time being, with more publications to get support in the near future. Basically, a small bar will appear at the bottom of an article that can navigate you to other relevant reading material, as well as the author's own Google+ page.
Mobile users will also see these recommendations whether they're signed into Google or not, but users who are signed in, will receive more options when tapping on the bottom recommendations bar. Hopefully this new feature will roll out for all websites sooner than later, but it seems the company is still in its testing phases and will mostly likely only give a few other websites access before they roll it to every web developer.
Google says that they're making it as easy as possible for developers to add and configure content recommendations for their mobile websites, and by adding a single line of Javascript to the code, devs will be able to make changes in the "For your site" section of their Google+ page dashboard right from the desktop.
This is sort of a win/win situation for both mobile web users and the website developers. Not only will users be able to find more stories of interest based on the initial article they read, but websites will be able to add further value for their readers by easily providing them with related articles if they're wanting more information about the subject talked about in a specific article. The new feature is a lot like our "Story Timeline" at the end of most of our posts, and while you can still access these additional stories on our mobile site, the new Google+ feature seems to be a lot more intuitive when browsing on mobile websites. We'll have to wait and see, and we're guessing Google will talk more about this at Google I/O this week. Stay tuned!
SOURCE: Google+ Developers Blog