Google+ adds custom gender option to profiles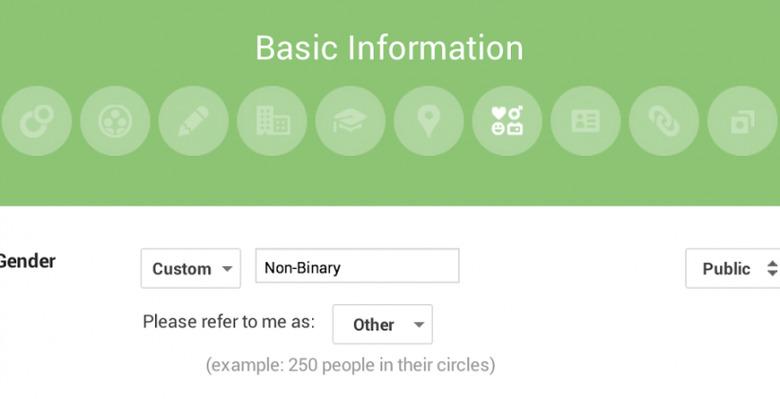 If you've been putzing around in Google+'s settings today, you might have noticed some new options under "Gender". Google software engineer Rachael Bennett announced on the company's social site today the arrival of "an infinite number of ways" for users to display their gender identity. Previously those who didn't want to use the "male" or "female" options were only given an "other" selection, but now there are four options, one of which is customizable.
For those who are seeing the new change, Google+'s "Gender" section now offers the same Male and Female options, as well as Decline to state and "Custom". Those who choose custom will then be given a text field in which they can enter whatever designation is preferred.
In addition to the custom text field, there's also a "Please refer to me as" drop-down menu in which the user can select male/female/other. As before, users can also limited who is able to see the gender listing — public, those in circles, extended circles, etc. — in the privacy menu.
If you're not seeing the new options yet, be patient — Bennett says Google is rolling them out to users over the next few days, so you might not see them until the end of the week. In the meantime, hit up our Google+ tag portal to see what else Google's social network has been up to.
SOURCE: Google+