Google acquires messaging startup Emu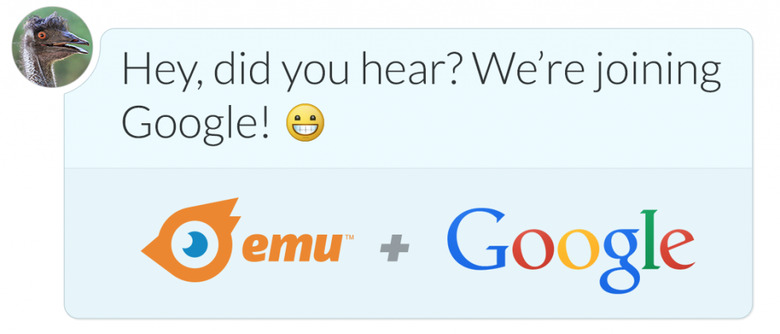 One of the neat things about iMessage is its ability to recognize times mentioned, offering them up as a link to the Calendar. Click on a mention of 12:30pm, and your calendar will automatically start setting up an appointment for that time. That type of feature may be coming to Hangouts soon, with Google's acquisition of Emu.
Emu does what iMessage does in that it finds mentions of dates and times, then offers to set up an appointment for you. With a few clicks, you go from discussion to meeting. For those who live inside of a digital calendar, the feature-set is valuable.
In announcing the acquisition, Emu also notes they're shutting down, effective immediately:
That's right! And we're super-excited. But to focus on our next chapter, we have to close the last one. As of August 25, 2014, we'll be shutting down the Emu app. It will no longer be available in the App Store, and existing users won't be able to send, receive, or download messages. We know it's an inconvenience, and we regret that.
Neither Google nor Emu are saying just where the team and/or tech will land, so we can only speculate for now. In considering Google's existing services, it would make a great tie-in for Hangouts and Now. Someone mentions they want to get together, and you click on the link in chat — it then populates in Now, and all you did was click and accept the invite. that would be pretty neat if Google were heading in that direction.
Source: Emu