GoFish Cam is an action camera for your fishing pole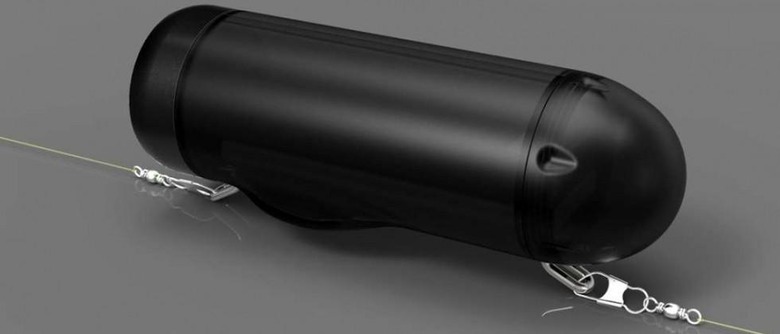 You can post a picture of your big catch online, but showing the catch as it took place — that is, from the moment the fish started eyeing your hook — isn't as simple. Enter GoFish Cam, an action camera of sorts that attaches to your fishing pole and records stabilized footage as you reel in fish. The camera is pill shaped and attached to the fishing line in such a way that the lens points toward the fishing hook, ensuring every moment is recorded.
The GoFish Cam is shaped like a large pill, and is designed to be attached on the fishing line below the weight. This is not the first fishing camera on the market (it is, in fact, still being funded), but it does try to distinguish itself via an integrated microphone, infrared lights, a 170-degree wide angle lens, buoyancy, and a stabilizing fin.
The camera records 1080p footage, and because of the buoyancy it rises upward so that it is tense against the weight and therefore further stabilized. A micro SD card up to 32GB is used to store the recording, and video transfers are done over WiFi to mobile devices via the related app.
The device's makers are seeking $55,000 USD in funding on Kickstarter, where it has so far raised $13,000 USD with 38 days remaining. A pledge of $115 USD will get a single GoFish Cam, which is estimated to start shipping to backers in February of next year.
SOURCE: Kickstarter