It's pretty safe to say that most mobile users have a love/hate relationship with their notifications. There can be times where they're really handy, and others where they're nothing more than an annoyance. Notifications for email can be particularly frustrating, especially if you're receiving dozens or hundreds of them every day.
An option, of course, is to just turn off notifications for your email app and enjoy the silence, but that also means important messages have the potential to slip through the cracks. Google is trying to find a happy medium between letting all of the notifications through and silencing them entirely by rolling out high-priority notifications in Gmail for iOS.
As explained over on the G Suite Updates blog, this new features does exactly what it says on the tin. Using Google's work in machine learning and AI, Gmail will attempt to identify only the emails that are important and send you notifications when one lands in your inbox. At all other times, Gmail will stay quiet, making sure you see things that require immediate attention without overwhelming you with a constant stream of notifications throughout the day.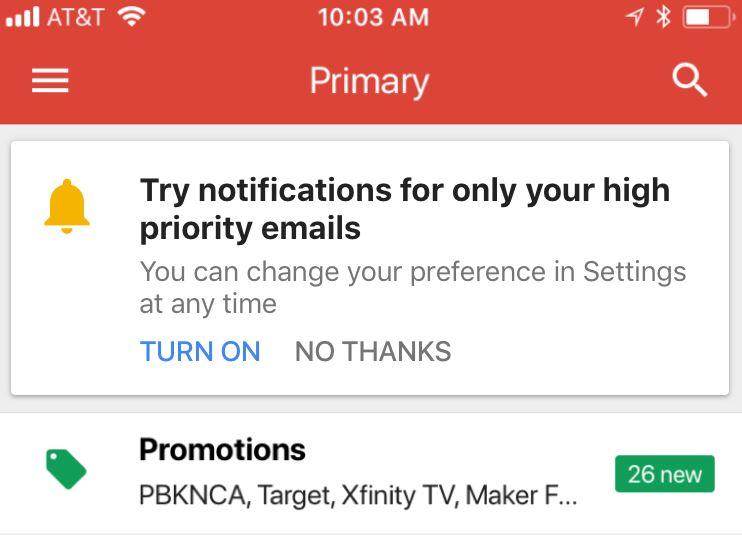 Enabling this feature is pretty simple – all you need to do is head into settings menu of your Gmail app and then select "high priority only" from the notifications drop-down. The screenshot Google shared also suggests that you'll be prompted to turn on high priority notifications in an alert that appears at the top of your inbox.
Unfortunately, this is only available to users on iOS at the moment, and the roll out to them might take a couple of days to complete. Google promises that Android will get the feature soon, but doesn't give a timeline for release. We'll let you know when that happens, so stay tuned.