GM plans six all-new GMC and Buick automobiles in the next 12 months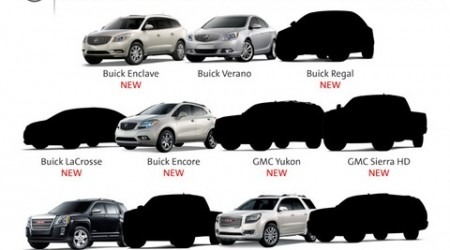 General Motors has been around for a long time and operates a variety of different automotive brands under the GM umbrella. The biggest brand for General Motors is Chevrolet with a variety of trucks, SUVs, and cars sold under that brand. General Motors also operates GMC, which sells branded versions of some Chevrolet vehicles.
General Motors also operates Buick, which has cars and a couple SUV models. General Motors has outlined its product scheduled for both GMC and Buick over the next 12 months. The two brands have six new brand models that are being teased at the same time that will be debuting sometime in the next 12 months.
The six new models include a new Buick Regal, a new Buick LaCrosse, a new GMC Yukon, a new GMC Sierra HD truck, a new GMC Sierra truck, and a new GMC Yukon XL. Those GMC truck models are copies of Chevrolets as I mentioned before.
GMC is also planning to bring the Canyon mid-size truck back as a new model, but it's not listed among the new versions debuting in the next 12 months. The new GMC vehicles will mean that the oldest GMC and Buick models will only date back to 2010 making both brands full of new designs. I wish Buick would bring back an exciting car like the Grand National from the 80s.
[via Motoward]