Glofish X800 PPC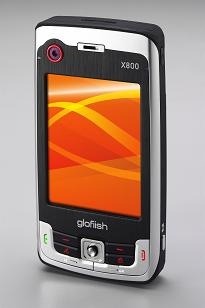 Featuring Windows Mobile 6 Pro, this tiny little handset packs a lot of punch. It has a 500MHz Samsung CPU, 256M Flash ROM and 64M of SDRAM.
It has a 2.8" VGA resolution screen displaying 65K colors. It will do 3.6Mbps HSDPA and will also run on UMTS networks. Its quad-band GSM based, has support for EDGE and GPRS, has WiFi, and Bluetooth, all of which should combine to make it quite easy to connect when you need to.
It also has a SiRF Star III chipset built in for GPS. There is also a .3MP cam for video conferencing, quite and amazing array of features if I do say so myself. This phone also uses ETEN's mobile shell, which allows you to change what's on the phone's "desktop" for lack of a better word, allowing you to easily see what's really important to you.
Glofish X800 now shipping to channel partners [via crunchgear]