Glacier W200 Wrist Computer is tech of the future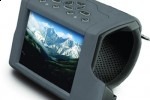 Glacier Computer has just revealed their W200, which believe it or not, is a computer that attaches to your wrist. Yes, just like in the movies! Only this time around, the device is completely real.
Features of this futuristic device include a 3.5-inch touchscreen, Wi-Fi, GPS, a backlit keyboard, Linux or Windows CE and more. This is essentially a low-powered computer that can be literally strapped to you at just about all times.
It also includes a motion sensor and an electronic compass, making it the perfect choice for those that like to go backpacking, or what have you. We don't know how much this thing costs yet or when it will be available, but we'll be sure to keep you posted.
[via Gizmodo]