Gigabyte shows off new Windows 8 computers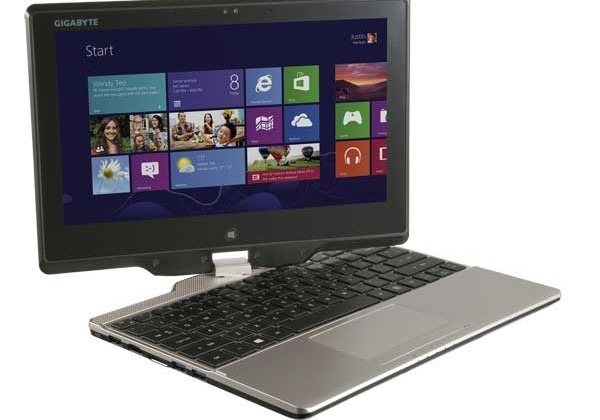 Gigabyte has gone official with its new Windows 8 computer lineup that includes a convertible, ultrabooks, and gaming notebooks. Gigabyte has a new slate computer called the S1082 is powered by an Intel dual-core processor. The device has a 10.1-inch screen and can be fitted with up to 500 GB of hard drive storage. The slate has some interesting accessories available including a keyboard kit and a multimedia docking station.
The U2142 is an 11.6-inch convertible ultrabook that runs Windows 8 or Windows 8 Professional. It has a multitouch screen and uses third-generation Intel Core processors. Another new ultrabook in Gigabytes Windows 8 line is the U2442 weighing in at 1.57 kilograms and having a 14-inch display. The machine uses the latest Intel Core processors and has Nvidia GeForce GT 650 M or GT 640 M discrete graphics card.
The Gigabyte P2542G is a 15.6-inch gaming notebook with integrated Blu-ray drive. The machine uses an Intel Core i7-3610QM processor and has Nvidia GeForce GTX 660 M graphics. The display supports full HD resolution, and the Blu-ray drive will also burn media.
The final product in the Windows 8 line is the 17-inch P2742G gaming notebook using a quad core third-generation Core i7 processor and Nvidia GeForce GTX 660 M graphics with 2 GB of GDDR5 RAM. The notebook has dual storage bays supporting up to 2 TB and RAID 0 technology. The machine also has a Blu-ray Combo drive, Bluetooth 4.0, and USB 3.0. Gigabyte offered no details on pricing or availability for any of its new Windows 8 computers.