Gigabyte Radeon HD 4870 gets Zalman GPU cooling in Japan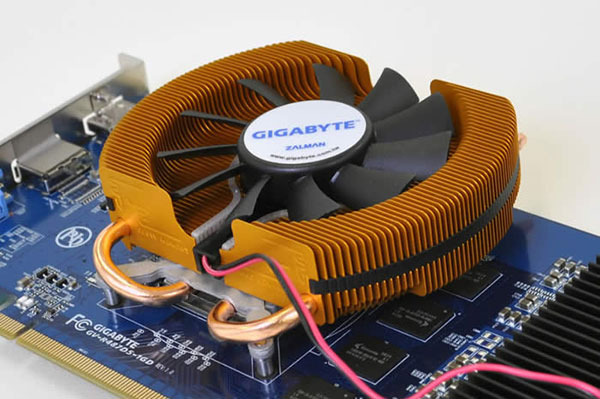 All my video cards have had after market GPU coolers for better air flow with quieter operation, so does my latest Nvidia with Zalman VF900-cu. The Zalman VF900 is a hybrid VGA cooling combines uniquely heatpipes design with a 90mm fan on its pure copper heatsink. Apparently Gigabyte likes the design; they have teamed up with Zalman, packed its latest ATI Radeon HD 4870 GV-R487D5-1GG with VF-900 looks alike GPU cooler.
The Gibabyte Radeon HD 4870 boasts 1GB of 256bit GDDR5 VRAM, Zalman heatsink and a 90mm fan with massive connectivity from DVI, HDMI and DisplayPort. It's PCI Express 16x bus supports 2.0 protocol, features ATI CrossFireX for high scalable multiGPU apps, and provides cutting edge HD videos playback thanks to its UVD 2 (Unified Video Decoder 2) with ATI Avivo HD Video for dual stream Blu-ray and PIP supports.
The GigGabyte Radeon HD 4870, GV-R487D5-1GG will be available in Japan next week for 35,600 yen ($395).