Gigabyte grabs Ivy Bridge CPU overclocking record at 7.032 GHz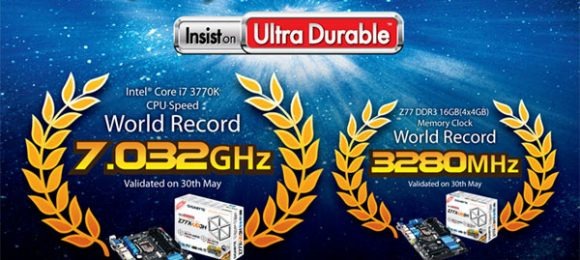 If you are a computer geek, you'll know what overclocking is all about. Overclocking is where geeks use various processes and often resort to exotic cooling to coax higher speeds and more performance out of their processors, RAM, and video cards. Gigabyte has announced that it has been able to set the record for the highest validated CPU clock speed using an Intel Core i7 3770K processor.
Naturally, Gigabyte's own Z77X-UD3H mainboard was used in the record-setting run. The overclocking geek who was able to set the crazy, higher than 7 GHz milestone goes by the name HiCookie. To reach the insane clock speed the overclocker did have to resort to using liquid nitrogen to keep the processor cool. The same person also broke the current highest memory speed record for the Ivy Bridge platform.
HiCookie was able to reach 3280 MHz with all four memory slots populated on the Gigabyte GA-Z77X-UD5H mainboard. The RAM used to set the record is G.Skill Trident X DDR3-2800. Gigabyte says that the two records were achieved thanks in part to its engineering prowess and memory tuning capabilities.