Gigabyte BRIX Mini-PC Offers Customization Galore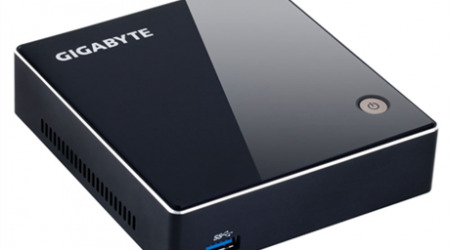 The mini PC has slowly transformed from a novelty to something more useful, meeting a variety of needs and working well as everything from a portable PC to an entertainment system solution offering more features than your standard set-top box. Gigabyte has added a new mini machine to the market, the GB-XM1-3537, more easily known as the BRIX.
Gigabyte boasts that the BRIX is very customizable, allowing buyers to configure however they would like for whatever purposes they require it, whether as a peripheral device or an everyday desktop setup. BRIX most obvious feature is its size, which can fit in the palm of your hand at 30 x 108 x 114mm. You can get an idea about the device's size by checking out the port-side of the computer in the gallery we have below.
Because of its size and some of the uses a mini PC is tailored towards, the device has a VESA bracket for mounting on the back of a display or on a wall, whichever is preferred in the setup. As far as design goes, the BRIX's frame is made of anthracite aluminum surrounded by a glass surface chassis, lending it the sheen visible in the image above.
The back of the device is home to six ports: HDMI, Mini DisplayPort, USB 3.0, RJ45, Kensington lock, and the power port/DC-in. There's another USB 3.0 port on the front of the device, bringing the total number of USB slots to 2. There are also a couple expansion options via a single mSATA slot and a half-sized mini-PCIe slot, which is where the wireless card is located.
As far as internals go, the default option ships with an Intel Core i7 starting at 2GHz, with users having the option of choosing either an Intel Core i3 or i5 instead. There are two DDR3 RAM slots, with the device capable of supporting up to 16GB of memory. Graphics are provided via integrated Intel graphics, and LAN from a Realtek gigabit offering. You can grab one for yourself from select retailers, with the price being dependent on the options you choose.
SOURCE: Gigabyte