Gigabyte Aivia Uranium gaming mouse breaks cover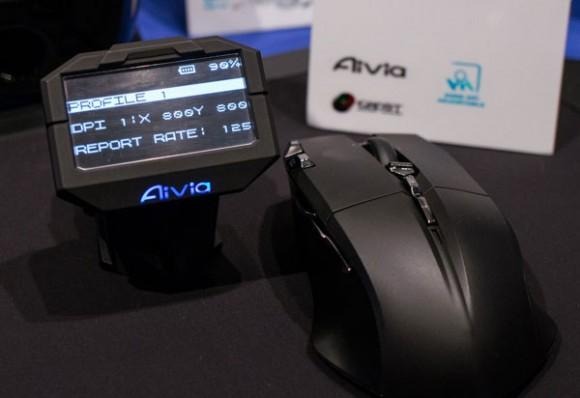 When it comes to computer gaming one of the most important peripherals for the gamer is the mouse. A mouse with too much or too little sensitivity can be very difficult to use during intense gaming sessions. Thankfully, there are a huge variety of gaming mice on the market today allowing the PC gamer to choose the mouse perfectly suited their needs. Another new mouse is set to launch from Gigabyte called the Aivia Uranium.
The mouse promises a battery life of up to 70 hours on a pair of AA batteries. These aren't old-fashioned throwaway AA batteries, though presumably you could use those throwaway batteries in a pinch. This mouse uses a pair of rechargeable AA batteries that are charged by plugging the mouse into the included Ghost Macro Station that doubles as the wireless receiver.
That Ghost Macro Station also has a very interesting OLED monochrome screen integrated into the front. That screen gives the gamer details such as how the battery charging is going, the DPI setting for the mouse, and the current wireless frequency. The screen can also be used for customizing macros on the mouse.
One of the most important aspects of any gaming mouse is the sensitivity. That's where things get a bit murky, so far we don't know the exact sensitivity but odds are we're looking at 5600 at least dpi. The mouse is also expected to feature 10 programmable buttons and multiple onboard profiles. The LED lighting system the mouse will also be color adjustable. The mouse is expected to launch in June with pricing unannounced. I'd wager we're looking at over $100.
[via EverythingUSB]