Getting Cheeky with the Honda UNI-CUB - a seamless experience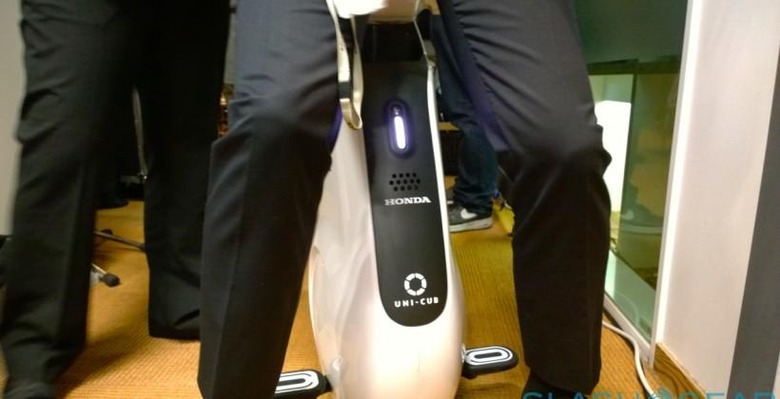 The Segway failed to set the individual human transporter market alight, but that hasn't stopped other attempts to give your tired legs a rest, and we hopped onboard Honda's UNI-CUB to see how it held up. Revealed last year as the first example of Honda's omni-directional driving wheel technology, the UNI-CUB may look like a stool but it's one that you can pilot almost merely by thinking about it. We rode the electric balancing scooter at the Ericsson Innovation Forums in Tokyo to see what all the fuss was about.
Honda has been experimenting with balancing individual transport systems since before 2009, with the UNI-CUB being the latest personal mobility system to come out of its labs. Rather than using physical controls, it relies on accelerometers and motion sensors to track how the rider is leaning, and move the UNI-CUB accordingly.
It doesn't take much movement at all to get the scooter started, either. In fact, in my own experience with the UNI-CUB, it was "very Jedi-like": almost to the point that you think which direction you want to go in, your body instinctively shifts your weight around accordingly, and the UNI-CUB picks up on that and moves away. Alternatively, you can control it from a smartphone app.
Forward and sideways motion is supported, along with turning, though not backwards: Honda reasons that humans don't generally walk backwards in everyday life, so the UNI-CUB could confuse matters if it suddenly reversed should the rider lean back. Top speed is around 6 km/h (3.7mph) with a maximum range of under four miles from a full charge.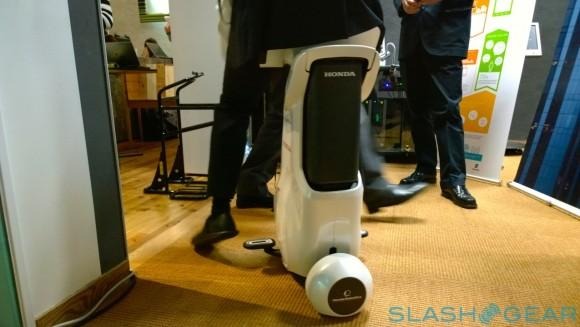 Although a little disconcerting initially, after a few minutes you quickly get used to the riding experience. It's surprisingly instinctual to pilot, and we were soon gliding across the room without much thought. Since you're perched on a high stool rather than standing as you would be on a Segway, you're still pretty much at eye-level with those walking round, too.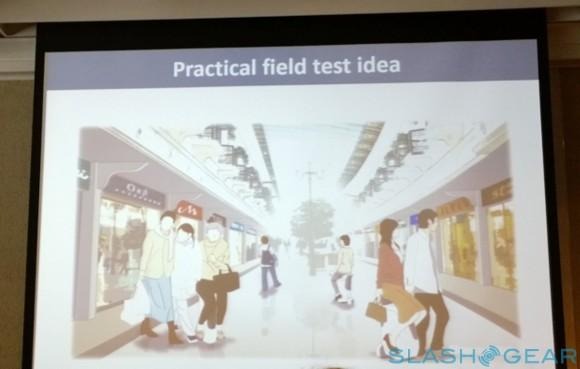 Honda suggests that something like the UNI-CUB would be great for elderly people to move around museums on, keeping up with their younger family members. Unfortunately, the company has no production plans at this stage.