Gennum rolls out ActiveConnect DisplayPort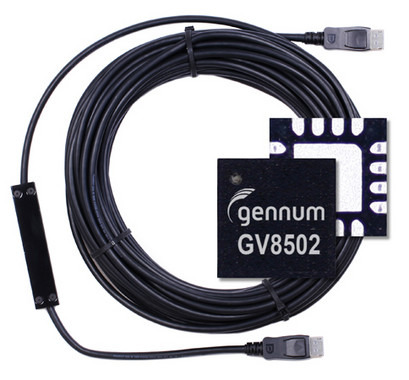 Expert predicts DVI will eventually phase out in PC peripherals segment, DisplayPort will resume the role in high resolution digital-video connectivity while HDMI will last in consumer electronic world for the next five years. So take a few notes of DislayPort gadget even you don't have one now, it will be all over the place. Gennum, the much-recognized brand from the video enthusiasts with its VXP image processor, is stepping in the new digital interface biz with the announcement of its ActiveConnect family DisplayPort cable, an extended-length digital cable without the need of an external signal amplifier.
Instead of an external box; the Gennum Activeconnect Displayport embedded the GV8502 device, a small and cost-effective signal booster that's said to be able to extend the cable length up to 15 times longer than a passive DisplayPort cable while maintaining its signal integrity. Full suite of DisplayPort features and functions are supported with Gennum Activeconnect device.
Gennum will showcase the new cable solution at the coming CES 2009. The ActiveConnect GV8502 silicon solution device will be available for developer at initial rollout price of $2 per unit.