Genetically modified salmon arrive in grocery stores for the first time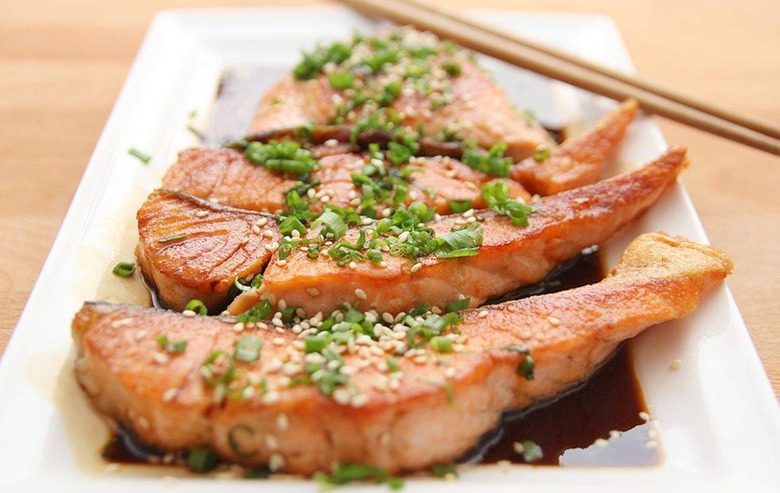 Genetically modified salmon have made their way into the wild, so to speak. While the female fish of this GMO variety are sterile to prevent them from mixing with wild salmon, the fish have expanded beyond their AquaBounty farms, arriving on dinner plates in Canada. This marks the first time genetically modified salmon have been sold for consumption, a trend that will no doubt continue following statements from multiple authorities citing the meat as safe for consumption.
The company AquaBounty, which produces a genetically modified variety of salmon called AquAdvantage, just announced its first-ever sale of its GMO fish, one that took place in Canada. The sale follows FDA approval for this GMO salmon, which was issued in November 2015 following an extensive review. At the time — and since — the FDA found that the fish is safe for human consumption and as healthy as the meat you'd get from ordinary Atlantic salmon.
At that time, AquaBounty was only allowed to raise its GMO fish in farms located in Canada and Panama, though during its quarterly results announced last week, the company revealed that it has bought its first commercial farm located within the US. This farm will be used to raise AquAdvantage salmon, with talks of sales already underway.
As with the FDA, Health Canada and the Canadian Food Inspection Agency recently wrapped up their own evaluation of the GMO fish and found them safe. Now that approval was granted, AquaBounty sold about 5 tons of its AquAdvantage salmon as fillets in Canada, where they're going to be sold on the consumer food market; the next time you buy salmon at a Canadian grocery store, there's a decent chance it was a farmed fish with modified genetics.
This only marks the beginning of a wider distribution of this fish for humans to eat, no doubt. Genetically modifying things like fish bring a host of benefits, in this case producing fish that grow at double the rate of normal fish. This means fish can be produced and brought to market much faster than nature's variety, helping reduce the high costs associated with salmon, as well as ensuring the food supply can keep up with increasing global demand.
Still, the fish isn't without controversy. Anti-GMO groups decried the AquAdvantage fish's existence when it was first announced years ago, and that attitude hasn't shifted. Some critics fear the GMO food isn't as healthy as regular — read, non-modified — food, though studies have repeatedly found such products safe. Others worry that the fish may mix with natural salmon, introducing modified genetics into the wild. The company, however, is using sterility to ensure this doesn't happen.
SOURCE: Global Newswire