Genesis New York Concept is a hybrid sport sedan with 241bhp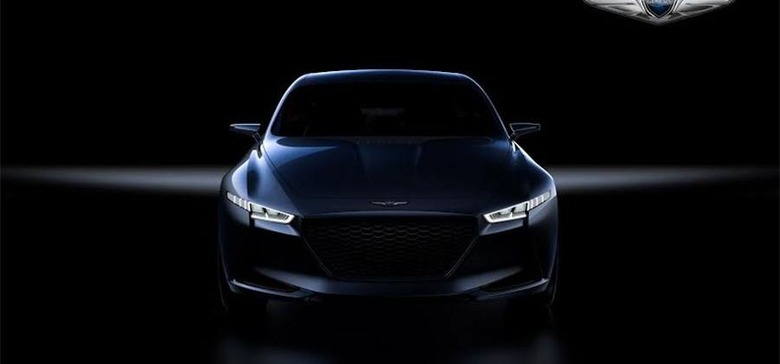 Genesis has unveiled a new concept car at the New York Auto show. The car is called the New York Concept and it shows what the company is calling the Athletic Elegance design direction that will be further explored down the road. The car also promises to focus on driver-focused luxury. Power for the car comes from a 245ps (241bhp) 2.0 GDi engine with an 8-speed automatic transmission.
Manfred Fitzgerald, Head of GENESIS said, "The New York Concept is a progressive concept car that showcases the design quality of the brand. With its expressive volumes and refined design, the New York Concept truly embodies the 'Athletic Elegance,' that characterizes GENESIS products and will continue to do so for future models that come from our luxury brand. Revealing the concept in New York is a fitting opportunity for GENESIS."
Genesis says that the design of the concept is characterized by a long hood and expansive dash-to-axel ratio giving the car an athletic stance. The car has air flow guides up front that sit below the headlights to direct air into the forward wheel housing. The outside of the concept is finished in a custom Ceramic Blue color with copper-color inlays in the lower front bumper fascia and sills.
Inside the car has a massive 21-inch floating curved screen that has driver instruments and media functions made by LG. The car also has classic analog driving instruments. The concept has tan leather on the inside, anthracite accents, and suede on the headrests. The car has a 3D gesture control sensor that allows users to throw specific content from one area of the screen to another allowing a range of customization. The only photo that Genesis has offered for now is the single dark image you see here. We will certainly be on the lookout for better photos of this seemingly attractive car.