Gen-X Dual Station let's you play both NES and Sega Genesis games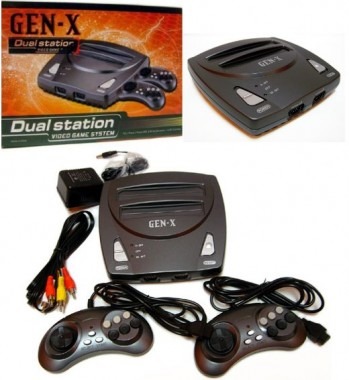 Recently, my little sister and I were talking about the progression of gaming systems. This year I got an Atari, from my little sister, it's not a full system, just a mini version of the game that comes with breakout and pong, but I was very excited to have it and she thought I was nuts. She had no idea what it was, nor did she remember ever playing the original Nintendo or Sega. This made me feel both sad and old. Today, however, I saw the Gen-X Dual Station and I feel there is hope.
The Gen-X Dual Station plays both NES games and Sega Genesis games, including Japanese titles. This console comes with controllers and A/V cables and anything else you may need. You can even hook up your old Sega controllers if you'd like. It sounds like a dream come true. So go unpack your games, blow in the bottom of them and play some good memories.
I was shocked to find out you can buy this at VideoGameAction for less than $40. While I'm definitely excited that I don't need to spend a fortune to reclaim some happy times from the past, I'm a little put out that they are selling some of the highlights of the good old days so cheap.