Gekkopod is a flexible, wrappable camera and phone tripod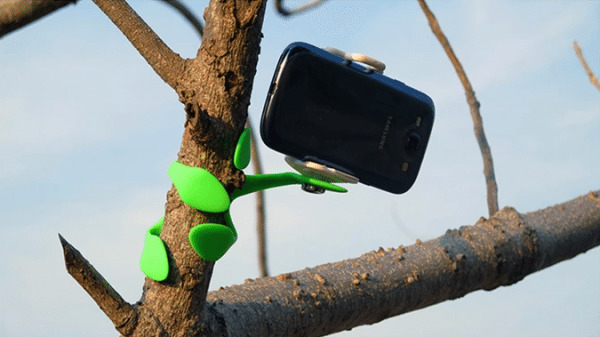 Tripods are becoming increasingly flexible, and Gekkopod is perhaps the best example of that. The Gekkopod tripod can hold a smartphone and a regular camera (though not at the same time) and be positioned just about anywhere the user would like — wrapped around the end of a long stick to be used as a selfie stick, around a tree branch to record some event, or on a flat but angular surface. The idea is that you can use the Gekkopod in a variety of situations that would otherwise necessitate many mounting accessories.
The Gekkopod is available with a GoPro mount, a smartphone mount for different size smartphones, and a standard 1/4-20" screw that will fit any camera with a traditional tripod mount. Overall, the tripod is promised to be lightweight.
The tripod's legs are flexible so they can be adjusted — with those adjustments being varied enough to include being wrapped entirely around a stick. There are also some limited edition glow-in-the-dark and camouflage Gekkopods.
The makers behind the Gekkopod were seeking $15,001 USD on Kickstarter, and have so far raised nearly $59,000 USD with 23 days remaining. You can get a single Gekkopod tripod with a pledge of $16 USD, which is said to be 20-percent off the eventual retail price. Shipping to backers is estimated to start in October of this year.
SOURCE: Kickstarter