Gears of War 4's first free maps arrive on November 1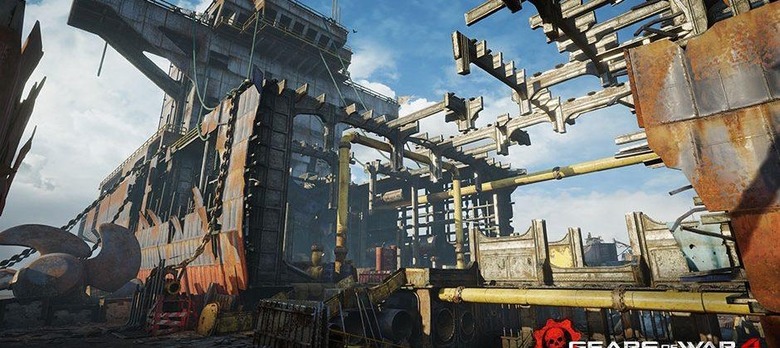 Xbox One exclusive Gears of War 4 has been out for a few weeks now, and players, especially those that partake in the multiplayer modes, might be wondering when new maps will be released. Fortunately, Microsoft has just addressed that, revealing that the first two maps will be available for players starting in early November.GoW4 developer The Coalition has said that the legacy maps Checkout and Drydock will be the first additions to the third-person shooter's multiplayer arena lineup. Players who have purchased the game's Season Pass can start playing on the two maps on November 1st by visiting the early access Developer Playlist. Then on November 8th, the maps will be added to the general public playlists.
The announcement included two flyover videos for the maps, offering brief look at their layout and terrain. Checkout, originally from GoW3, takes place in an old abandoned supermarket in the city of Hanover. Set 25 years after the Locust Wars, nature is slowly reclaiming the area, but the developers say it's still a location for fast and frenetic combat.
Drydock, also from GoW3, is set in an old dockyard, once used for building ships but now used as a scrapyard. Here, the environment is a combination of rusting industrial debris and a mudflat.
GoW4 will be receiving two free maps per month for the next year, with this being the first set. Season Pass holders will be treated to early access regularly within the Developer Playlist, followed by a general rollout to all players.
SOURCE Xbox Wire