GE will purchase 2000 Ford C-Max Energi plug-in hybrids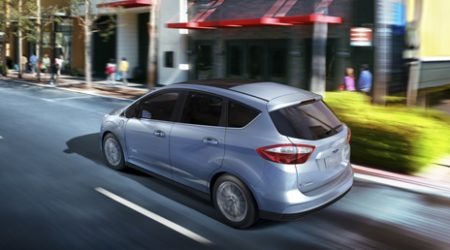 GE and Ford has announced that GE will be purchasing a huge number of Ford's new plug-in hybrid vehicle called the C-Max Energi. GE plans to purchase 2000 of the Ford hybrid vehicles for its fleet. The massive purchase marks the largest electrified Fleet sale in Ford history.
GE is purchasing the plug-in hybrid vehicles as part of its initiative to convert half of its global fleet of vehicles to alternative fuel systems. Currently GE has about 5000 alternative fuel vehicles in its fleet and its goal is 25,000 vehicles. Ford and GE will also be working together with researchers from the Georgia Institute of Technology.
The two companies will be working with the University to study GE employee driving and charging habits with an eye towards improving all-electric driving and charging performance. The researchers will use the MyFord Mobile app that offers real-time battery charge status and allows users to automatically charge the vehicle during off-peak electric rates.
Ford's C-Max Energi is the most fuel-efficient plug-in hybrid with an EPA estimated 108 MPGe city rating and 100 MPGe combined rating. The vehicle is also one of the most affordable plug-in hybrids in the United States starting at $29,995 after a federal tax credit.