Gateway M-152XL 15.4-inch notebook: Unboxing & Review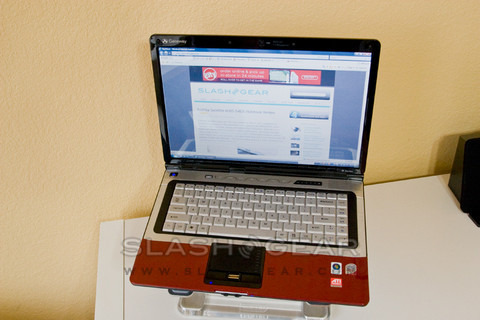 In a week when full-sized notebooks have wrenched back the focus from their budget ultraportable brethren, we've had Gateway's M-152XL on the SlashGear test bench. With a 15.4-inch widescreen display, Intel Core 2 Duo T8300 processor and separate ATI Mobility Radeon graphics, packed into a 6.2 pound chassis, Gateway's latest is really looking to take pride of place as a desktop replacement. It's a competitive niche in the sector, though, so is the M-152XL up to the task?
With no pretence toward extreme portability, the M-152XL has to earn its keep with affordable grunt. The sticker price of $1,299 puts it firmly in amongst Dell's M1530, Toshiba's A305 and HP's Pavillion dv6700, all of which – on paper at least – seem very similar; however, as of writing, Gateway are offering $300 off the notebook, bringing it down to just $999. Gateway have packed the M-152XL's broad casing with Intel's Core 2 Duo T8300 2.4GHz CPU, an ATI Mobility Radeon HD 2600 with 512MB GDDR3 dedicated memory, a healthy 3GB of 667MHz DDR2 SDRAM and a 160GB 7,200rpm SATA HDD courtesy of Seagate. The 15.4-inch WXGA Ultrabright display runs at 1280 x 800. Otherwise, there's a slot-loading 8x DVD burner, 5-in-1 memory card reader and a 1.3-megapixel webcam in the screen bezel. Connectivity is via WiFi a/b/g/draft-n and Bluetooth 2.0+EDR, as well as three USB and an HDMI port.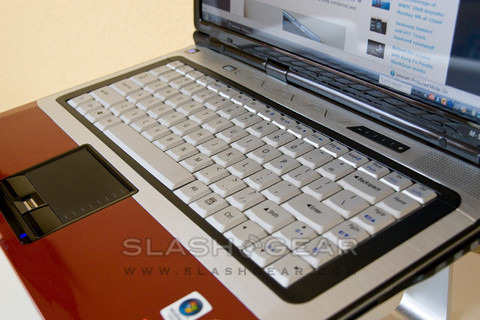 Already it's possible to see a slightly different tactic on Gateway's part: the hard drive may be smaller compared to the 200GB+ offered by rivals, but it's faster; similarly, HDMI is on offer but so is a traditional VGA port. Casing design is another distinction. Built solidly and demonstrating little flex or twist, the M-152XL is offered in a number of gloss-finish colors that extends from the lid down onto the wrist-rest. Unlike the Toshiba M305 we reviewed recently, Gateway have (sensibly) left the keyboard itself alone; matte keys might not look as slick as glossy ones, but they're less prone to greasy smearing and they're easier to see, too. Our M-152XL was finished in red, which looked great but instantly picked up fingerprints.
In terms of typing, we felt we could batter away at the M-152XL for a long time; the keyboard is evenly supported across its width, key response is fair and it's relatively quiet. The same can't be said for the trackpad buttons, though, which are surprisingly loud. Thankfully the trackpad itself is easy to use and didn't miss a click. In-between the buttons sits a fingerprint scanner. Above the keyboard are a number of media control buttons, etched out of the keyboard bezel in a manner reminiscent of the Motorola RAZR and which require a sometimes distressingly firm press to activate. Alongside is a touch-sensitive volume strip, which worked but felt a little gimmicky.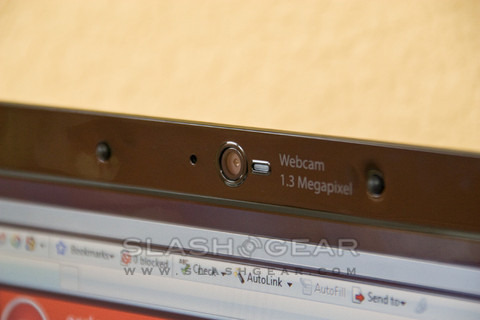 In terms of graphics performance, the M-152XL is a mixed bag. The WXGA screen has a pronounced vertical sweet-spot courtesy of some narrow viewing angles (although the horizontal angles are broader), but it's bright and crisp with no defects or stuck pixels in our sample. Graphics capacity, courtesy of the Radeon HD 2600, is enough for casual gaming, though you'll need to dig deeper in your wallet if you want to play titles making heavy use of 3D. For editing media, though, the M-152XL excels; the combination of a fast hard-drive, capable graphics and a healthy chunk of RAM add up to some of the best media processing bang-for-buck we've come across. For the sake of comparison, we normally edit video for the site solely on Apple's MacBook Pro.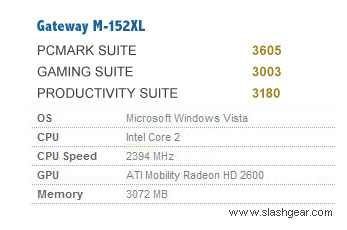 We've unified our benchmark standard for laptops and desktops using PCMark, and the Gateway did reasonably well. High-definition video, piped out through the HDMI port, benefited from the Radeon HD card, and the M-152XL capably handled media duties thrown at Windows Vista Home Premium's Media Center functionality. The absence of a TV tuner is an obvious blip here, and Gateway have missed a trick by not capitalising on the notebook's strength. One glaring limitation is the onboard sound; the M-152XL's speakers are pitiful, lacking any sense of bass and stumbling in the mids too.
It's becoming more and more common to see brand new notebooks choked with bloatware, and thankfully Gateway seem less guilty than some. We still needed to clean a few apps and trials off of the M-152XL, but nowhere near as much as with recent Sony and Toshiba counterparts and, crucially, very little of it auto-starts when you first boot.
As for the battery, our usual test of playing a DVD with the screen always on resulted in just under one and three-quarter hours before the Gateway expired. With screen brightness at midway, Vista managing the power profile and WiFi switched on, you can expect around two and a half hours. Gateway offer an extended battery for around $200 that is claimed to roughly double running time, though given the desktop aspirations of the M-152XL it's unlikely to be needed.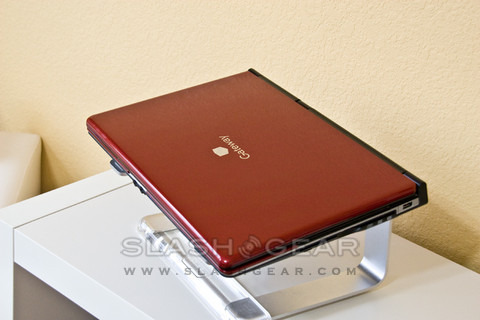 Making a mark in mid-range notebooks is tricky, with users expecting both performance and looks for their money. Personal taste will sway you on the M-152XL's appearance – we're of the opinion that gloss finishes are a little tired, but that could be levelled at plenty of Gateway's rivals, too – but you're unlikely to be disappointed with the notebook's abilities, particularly if you edit video or work with media in some other way. The current $300 discount promotion is another big plus. Serious gamers, as ever, should look higher up the price scale, but despite the slightly-smaller-than-average storage the Gateway M-152XL is a solid buy.
You can see our full gallery of Gateway M-152XL photos here.Unboxing Video: