Gateway ID49C Review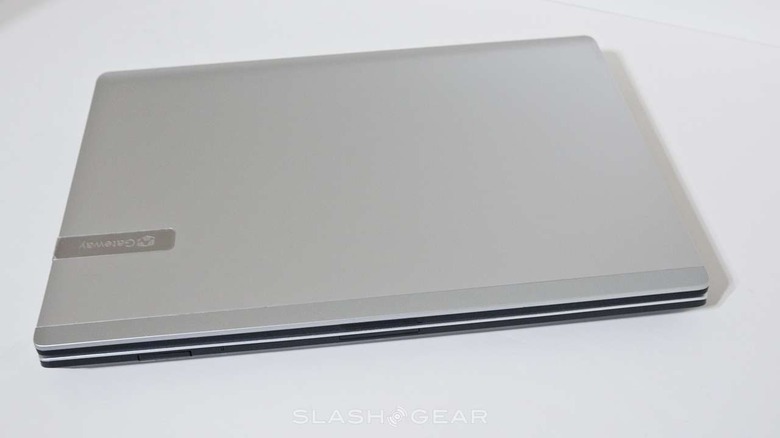 Gateway has built a reputation on affordable machines with solid specifications, but the company's new ID49C aims a little higher than the mainstream. With a lick of aluminum and an eye-catching backlit glass trackpad, there's more to the ID49 than just its Core i5 processor. Has Gateway done enough to lift the ID49 above its 14-inch competition? Check out the full SlashGear review after the cut.
Hardware
Our particular ID49C review unit is the Gateway ID49C13U, with a 2.53GHz Intel Core i5-460M processor, 4GB of DDR3 RAM and a 500GB 5,400rpm hard-drive, along with NVIDIA GeForce GT 330M graphics with 1GB of VRAM. There's also Intel HD graphics, using NVIDIA's Optimus automatic switching technology to balance power use and performance.
[sgbenchmark id=129 show=system]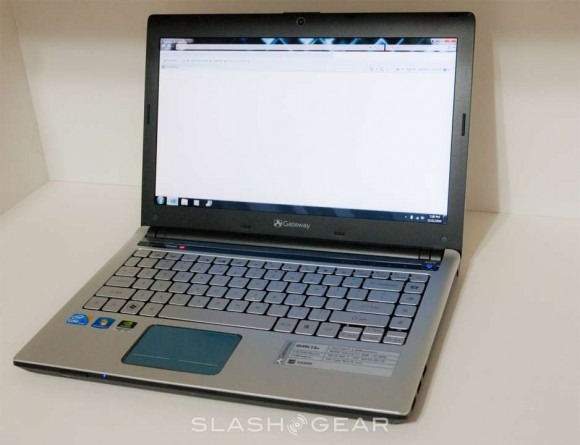 Ports include HDMI and VGA, along with four USB 2.0, audio in/out (the latter doubling as an S/PDIF digital output), gigabit ethernet and a multi-format memory card reader. A DVD burner is on the right side – though there's no hardware eject button, only a touch-sensitive key above the keyboard – and there's a 1.3-megapixel webcam above the 14-inch 1366 x 768 glossy 16:9 aspect display. Inside you get WiFi b/g/n but no Bluetooth as standard. Similar absent is USB 3.0 or eSATA.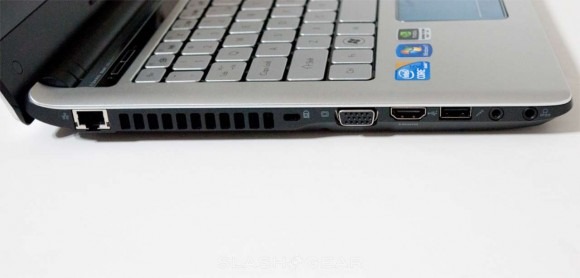 Gateway has made no small amount of effort to elevate the ID49C above its mainstream rivals, so you get a real aluminum skin on the lid and some reasonably tactile keyboard and palm-rest materials inside. The company has used a chiclet design for the keyboard itself, but it's definitely not the best we've used. There's a significant amount of bow in the middle of the 'board, leaving it feeling spongy and cheap, but more frustrating is Gateway's odd decision to use the row of keys on the far right for dedicated volume controls and a shortcut to their "Social Networks" app. We'd rather see them get buttons above the keyboard, as usual, and have page up/page down instead (which are relegated to Fn shortcuts with the arrow keys).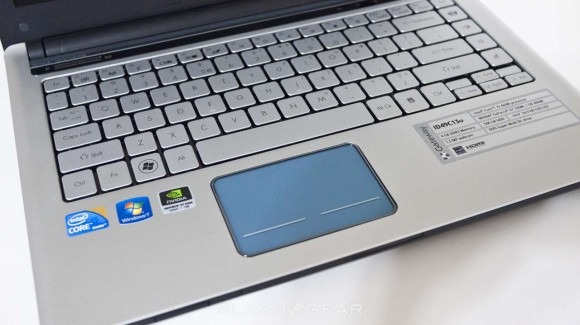 The backlit trackpad is another odd decision. Tap its rubber-textured surface and it lights up brightly; unfortunately that's all it really does. Multitouch gestures are supported, as per usual, but there's no real justification for the backlighting. Gateway could've thrown in some sort of notification app, flashing the trackpad when new emails arrive perhaps, but instead it feels gimmicky and we wish they'd made the keyboard backlit instead.
Software
OS is Windows 7 Home Premium 64-bit, on top of which Gateway unfortunately borrow ideas from parent company Acer and install a fair amount of bloatware. In addition to the Gateway MyBackup app, power management app, recovery management app and Social Networks app, there's Cyberlink PowerDVD and Nero 9 Essentials and Microsoft Office Starter 2010. The latter is an ad-supported bundle of Word and Excel, which have had some of their more advanced functionality stripped out and get a permanent help/upgrade/advert bar running down the right hand side of the display.
Performance
As usual, we turned to Geekbench to benchmark the ID49C, a synthetic test of processor and memory performance. The ID49C scored 5,042 overall, with expectedly strong processor scores. That puts it ahead of the 2.4GHz HP ENVY 14, which scored 4,830 with its Core i5-450M processor, and the 2.4GHz Lenovo IdeaPad Y460, which managed 4,930 with its Core i5-520M.
[sgbenchmark id=129 show=score]
Real-world use, however, can hit a couple of snags. Gateway's choice of a 5,400rpm hard-drive rather than a 7,200rpm model means we encountered some slow-down during drive-intensive applications; that made gaming bumpy at times, as well as introducing some stalling into video processing. The GT 330M GPU is certainly stronger than Intel's HD graphics chipset, but while games like Mass Effect 2 will run, that's only at their very basic settings. This really isn't a gaming machine, and it's not helped by an underwhelming display with noticeable shortcomings in color saturation and lackluster blacks.
Gateway estimate up to 5.5hrs of runtime from the ID49C's standard 4,400 mAh 6-cell battery, aided by the judicious intervention of NVIDIA's Optimus system and the company's own power management software. The latter consists of a number of apps that individually allow you to shut off the DVD burner or leave screen brightness/power to the whims of the ID49C. Browsing over WiFi, we managed a little over three hours before the Gateway expired; playing a 720p video (from the hard-drive, not a DVD), meanwhile, the ID49C lasted around 2.5hrs.
Wrap-Up
The Gateway ID49C's core hardware is decent, but we're left confused by the company's decisions in how they wrapped it up. The ID49C is certainly a good looking notebook, but in real-world conditions the attention seems to have been paid to the wrong components: a pointless backlit trackpad instead of a more useful backlit keyboard, and money spent on an aluminum lid rather than a better quality LCD display. At $849.99 it's $150 more affordable than the IdeaPad Y460 and benchmarks faster, but we'd rather have the Lenovo's battery life, Blu-ray drive and eSATA, not to mention its more usable keyboard and screen.