Garmin Vivofit Jr 2 brings Disney flair to kids fitness tracking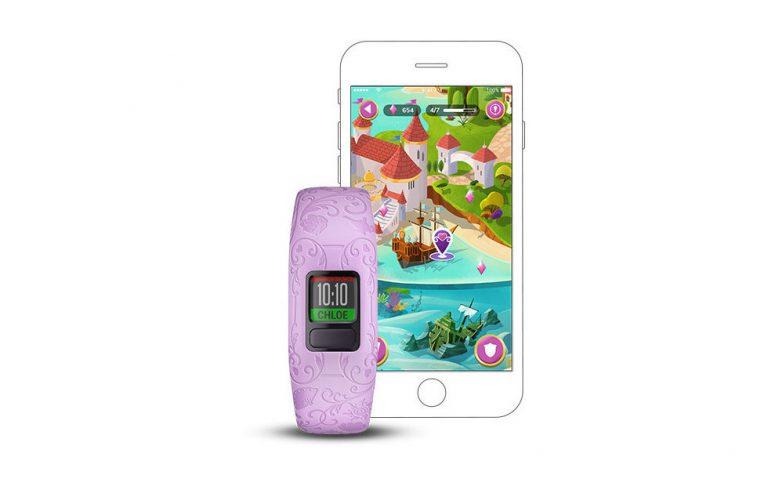 The Vivofit Jr. 2 is a fitness tracker that Garmin has offered for about a year now, and along the way we've seen it team up with Disney to offer devices themed around Marvel superheros and Star Wars. Today, the two companies announced a new version of the Vivofit Jr. 2, this time featuring Disney Princesses. As with previous entries in the Vivofit Jr. 2 line, the idea is to get kids excited about meeting exercise and activity goals by turning it all into something of a game.
This is largely done through a companion app called Magical Kingdoms: A Disney Princess Adventure. With that app, kids will be able to play games and work their way through stories involving Rapunzel, Mulan, Jasmine, Belle, and Ariel. Stories will take place in locations from their respective movies – for instance, Garmin said in today's announcement that kids will be able to "explore the Cave of Wonders with Jasmine" or "save the Emperor with Mulan."
As kids meet their daily activity goals, they'll be able to progress through the stories that the app tells. They'll also be able to redeem gems in order to play games, and those gems are earned by logging active minutes. Parents will be able to use a companion app of their own to set "chores" for their children and award them with virtual coins when those chores are completed. Those coins can then be redeemed for "agreed-upon rewards," but what those are weren't revealed in today's announcement.
Aside from all of that, the Vivofit Jr. 2 functions like we'd expect any other fitness tracker to. It'll track things like steps, sleep, and activity minutes – stats that parents can also keep an eye on through their companion app – and it will allow kids to participate in step challenges with their family and friends. As with other devices in the line, this one features a color display, swim-friendly bands, and a battery that can last a year on a full charge.
Finally, you'll also be able to swap out the bands to give your vivofit a Marvel, Star Wars, or Minnie Mouse flair, so it sounds like you'll be able to pick up the Disney Princess bands separately if you already own a Vivofit Jr. 2. The new fitness tracker is available at retailers like Best Buy and Target today, and comes with a price of $79.99, which additional bands are priced at $29.99 each.