Garmin quatix 5 marine smartwatch is made for boating, fishing and more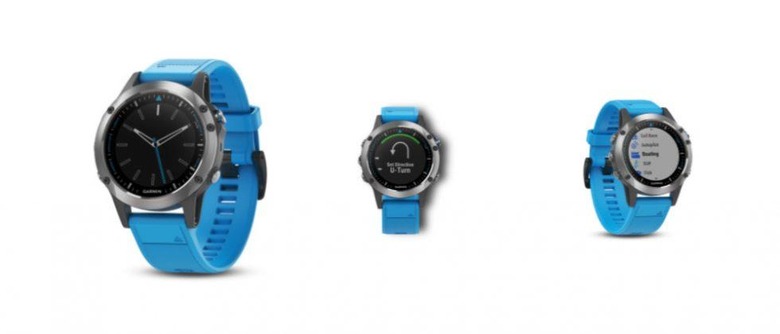 Garmin has introduced a new smartwatch that is designed specifically for 'life on the water,' the Garmin quatix 5 marine wearable. This smartwatch offers GPS and has features specific to boating, such as support for related Garmin chart plotters and similar marine-centric gadgets. The wearable itself builds upon the quatix 3 model, adding a new form factor as well as things like Garmin Elevate wrist heart rate tech.
Depending on the marine devices the smartwatch owner has, the Garmin quatix 5 can be used to mark waypoints with a remote multifunction display, control autopilot, offer sail racing assistance, stream data like depth and speed, and other things. The wearable itself comes preloaded with various marine features; there are, for example, built-in activity profiles applicable to different types of activity both on and off the water.
These activity profiles include things like cycling, rowing and swimming, hiking, paddling, and running. There's the aforementioned Garmin Elevate wrist heart rate technology for monitoring the wearer's heart rate level. Because the watch is designed for water, it's not surprising that the wearable is itself waterproof, meaning you can wear it non-stop regardless of whether you're sleeping at night or out rowing in the morning.
The watchband, meanwhile, can be swapped out for a different one rapidly depending on activity; you can use a nice leather band during the day and swap it out for silicone when you're heading to the beach, for example. No tools are necessary for swapping the watchband. The watch itself features an LED backlit display that can be read in sunlight, as well as an omni-directional stainless steel EXO antenna, GPS + GLONASS, up to 24hrs of run time per charge when using GPS or up to 60hrs in the 'UltraTrac Mode,' as well as two weeks when in the ordinary smartwatch mode.
The watch is available now from Garmin's website. The regular quatix 5 is priced at $599.99 USD and the Sapphire Edition is priced at $849.99 USD.