Garmin Drive 2017 navigator product line update adds free live services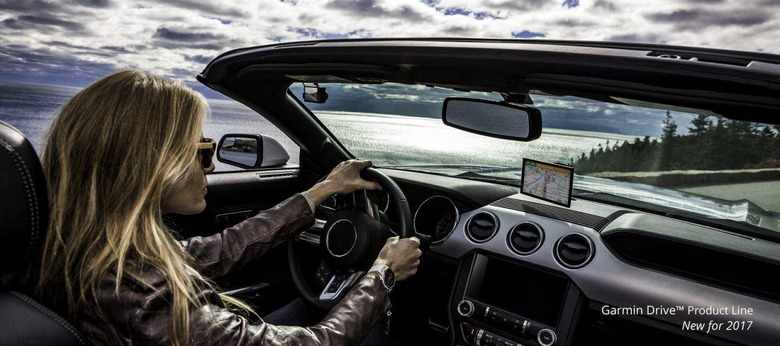 Garmin has introduced an update to its Garmin Drive lineup, a series of portable navigation devices targeted at everyday commuters. There's the Garmin Drive, an entry-level product, as well as the Garmin DriveSmart, Garmin DriveAssist, and Garmin DriveLuxe. The 2017 update is adding what Garmin calls "essential live services," that is live services that are now available to owners for free. The 2017 Drive products have an 'enhanced feature set,' says Garmin.
Garmin calls the updated entry-level model the "Garmin Drive 51/61," saying it has added those live ("real-time") services including live traffic, assuming the device is paired over Bluetooth with a smartphone. This live info includes things like Parkopedia, a service that offers live parking information, as well as LiveTrack for sharing one's current destination with others. There's also preloaded TripAdvisor data with this and the rest of the 2017 Drive models.
Joining that entry-level model is the Garmin DriveSmart 51/61, which has all of the previous model's features as well as integrated WiFi for loading software updates and map updates. This model has a 6.5-inch touchscreen display with a "high-resolution," as well as Bluetooth, voice-activated navigation, and connectivity with smartphones for receiving app and text alerts.
Next is the Garmin DriveAssist 51, a model that brings the above unit's features plus an integrated dash cam with continuous recording and audio recording. The device will save any footage if it detects a crash, doing so onto a microSD card. There are also safety features like Lane Departure Warnings and Forward Collision warnings, as well as Garmin Real Vision that shows a live view of the road with a navigation arrow overlaid onto it.
Finally, there's the Garmin DriveLuxe 51, the premium model in the line that has all of the features detailed above, plus a metal design that enables the navigator to be mounted using a magnetic mount. The company says it expects you'll be able to buy these models starting in February with a price range of $149.99 to $329.99 USD.