Garmin debuts new Forerunner fitness watches with heart rate monitor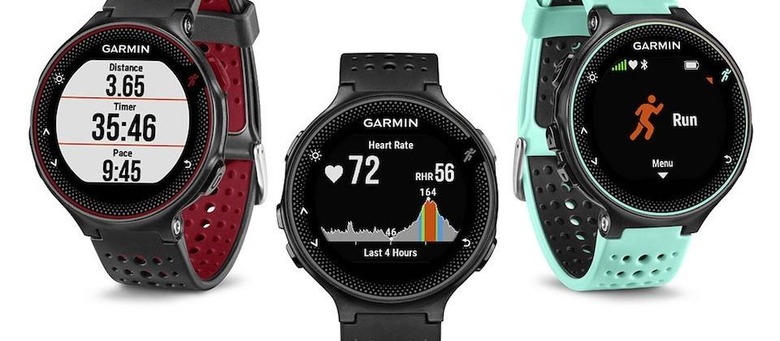 The year of smartwatches continues to roll on, as a new set of fitness-focused wearables have just been announced by Garmin. This includes three new watches in the company's Forerunner line, all with GPS, heart rate monitoring capabilities, and features aimed at runners. The first pair is the Forerunner 235 and 230 (seen above), followed by the much more high-end Forerunner 630. The most noticable change is that all three have a color display that is 44% bigger than previous models, along with thinner bezels.
The Forerunner 235 is Garmin's first device to feature wrist-based heart rate monitoring, thanks to the Garmin Elevate optical sensor. This means there's no need for a chest strap, but as a result it's priced at $329. The Forerunner 230 is a bit cheaper at $299, but it relies on an ANT+ strap, which is at least included.
As for smartwatch features, both the Forerunner 235 and 230 run on the Connect IQ platform, so they can be customized with watch faces and apps. After pairing with Connect mobile app from Garmin, the watches can be used to control music playback and sync fitness data. The 235 has a battery life of 11 hours, while the 230 can run for up to 16 hours with a single charge.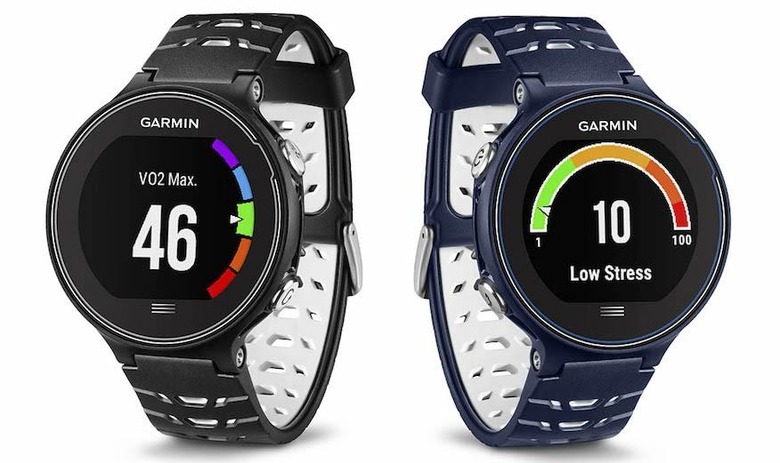 Next is the Forerunner 630 (above) which Garmin says is its "most advanced running watch" to date. It features the same larger display as the previous two, but is packed with more advanced fitness tracking features, including cadence measurements and ground contact symmetry, and running efficiency.
The 630 also runs on Connect IQ and pairs with the Connect app, along with syncing over Bluetooth and WiFi. The price, however, stings at $399, and that's because it not only doesn't have the optical heart rate sensor of the Forerunner 235, but it doesn't even include the chest strap that is needed.
Garmin says all three wearables will be available before the end of the year in a variety of colors.