Garmin Dash Cam 30 and 35 are first to offer Driver Alerts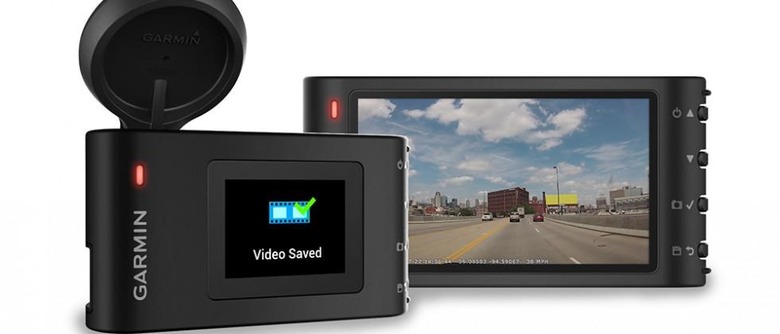 Garmin has introduced a pair of new Dash Cams, the Dash Cam 30 and Dash Cam 35. The latter of those two models is the first among Garmin's offerings to bring Driver Alerts, which give the driver a heads up about speed and red light cameras and Forward Collision Warnings. Both of the models, meanwhile, feature footage capture at WGA, 720p, and 1080p resolutions. The Dash Cam 30 has a 1.4 inch LCD, and the Dash Cam 35 has a 3 inch LCD. These join existing models in Garmin's Dash Cam product lineup.
Both the Dash Cam 30 and the Dash Cam 35 are designed to mount on a car's windshield, where they will record footage at the specified resolution in a continuous loop, according to Garmin. The cameras start recording automatically when the car is turned on, and will turn back off once the car is shut down. In addition, both models feature Incident Detection via a G-sensor to automatically save the footage if an impact is detected.
The cameras are also designed to help the driver to be more safety-conscious and careful behind the wheel via alerts. That includes the aforementioned Forward Collisions Warnings, which gives an alert if the driver is following too closely behind the vehicle in front of them. Those with the 35 model will also get alerts about cameras.
The Dash Cam 35 also brings some other perks, including GPS that allows videos to automatically be labeled with details like location coordinates, the time, and the date. Dash Cam 30 owners, meanwhile, are able to manually set the date and time for footage.
Both models are designed to be used as a camera for taking snapshots of damage resulting from accidents — if a wreck occurs, the driver can take the camera out of the car and use it to take pictures. Footage and images are saved to a micro SD card included with the models. Up to 64GB cards are supported by both the 30 and the 35.
The Dash Cam 30 is priced at $169.99 USD, while the Dash Cam 35 is priced at $199.99 USD. Both are set to launch in Q4 2015.