GameStop pulls Deus Ex from store shelves after OnLive controversy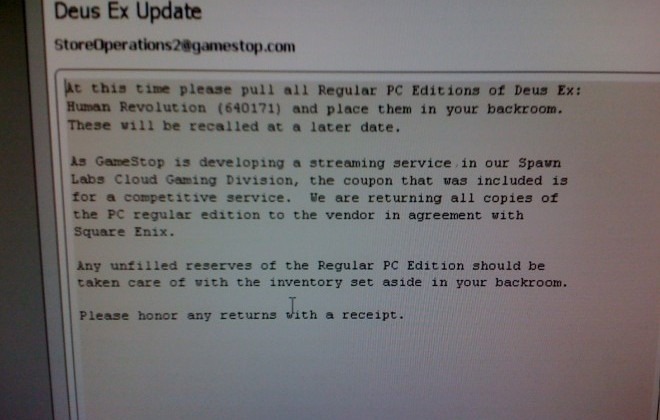 GameStop has completely yanked the PC version of the Deus Ex: Human Revolution game title from its store shelves following the OnLive controversy. The game retailer had come under fire after it was revealed and then comfirmed that the company was opening up boxes of the Deus Ex game to remove coupons from cloud-gaming competitor OnLive.
The boxed PC version of the Deux Ex: Human Revolution game was prepackaged with a coupon from OnLive that gave customers a free online version of the game to encourage customers to try the OnLive cloud-based gaming platform. When GameStop discovered this, they issued a memo to employees asking them to remove this coupon.
Many gamers wanting to purchase the title and to receive the coupon were outraged at GameStop. However, the publisher behind Deus Ex, Square Enix, has issued a statement in support of GameStop's decision. Their statement reads:
"As part of Deus Ex: Human Revolution's boxed offering on PC, Square Enix included a third-party coupon. GameStop was not made aware of this inclusion and Square Enix respects the right of GameStop to have final say over the contents of products it sells and to adjust them where they see fit in accordance with their policies."
GameStop has issued a new email to employees asking them to place all the regular PC editions of the Deus Ex: Human Revolution game in the backroom, where they'll wait to be recalled. The company has also openly stated that the OnLive service directly competes with its own streaming service that is still under development by its Spawn Labs Cloud Gaming Division.
[via Wired]